FOX NEWS FIRST: DOJ official Bruce Ohr faces the dossier hot seat; Key primaries in Arizona, Florida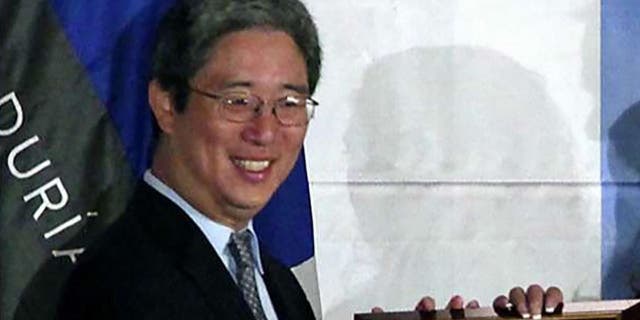 Welcome to FOX News First. Not signed up yet? Click here.
Developing now, Tuesday, August 28, 2018
Justice Department official Bruce Ohr is scheduled to testify behind closed doors Tuesday before Congress about his alleged ties to the largely discredited Steele dossier and the DOJ's knowledge of the salacious Trump documents 
Voters in Arizona, Florida and Oklahoma will go to the polls in primary elections Tuesday to select candidates in closely-watched Senate and gubernatorial races
In an interview with FOX News, an emotional Sen. Lindsey Graham opened up about the death of Sen. John McCain and promised give his close friend 'the sendoff he deserves'
President Trump announced Monday that the United States and Mexico have reached a tentative new trade agreement that could replace NAFTA
Lanny Davis, former Trump attorney Michael Cohen's lawyer, has admitted being an anonymous source for a 'bombshell' CNN story on the infamous Trump Tower meeting after backpedaling on Trump-Russia collusion claims
Disgraced former 'Today' host Matt Lauer has reportedly told fans he will be returning to TV
THE LEAD STORY - BRUCE OHR, KEY DOSSIER FIGURE: Justice Department official Bruce Ohr is expected to testify behind closed doors Tuesday before the House Oversight and Judiciary Committees about his connection to the largely discredited, infamous Steele dossier containing salacious allegations about President Trump's ties to Russia ... In recent weeks, Trump has tweeted about Ohr, called him a "disgrace" and has suggested he may revoke his security clearance. Ohr's testimony is highly anticipated, for good reason.
His connections to the Steele dossier are significant: his wife, Nellie, is a former contractor for Fusion GPS, the research company that worked with ex-British spy Christopher Steele to compile the infamous dossier. Conservatives have accused Ohr -- who was once former associate deputy attorney general -- of having a conflict of interest during the presidential campaign because of his wife's work. The dossier was used by federal officials to justify the surveillance of a Trump aide Carter Page paid for by Hillary Clinton's campaign and the Democratic National Committee.
Ohr was demoted once the DOJ learned about his communication with Christopher Steele Fusion GPS founder Glenn Simpson. Fox News has reviewed a collection of Ohr's emails, texts and handwritten notes and they indicate that he was deeply connected to the dossier as well as its author. Ohr wrote that Steele was "very concerned (abt) about [former FBI Director James] Comey's firing -- afraid they will be exposed." The Ohr documents also shed more light on Steele's activities before the presidential election.
PRIMARY TUESDAY IN ARIZONA, FLORIDA, OKLAHOMA: Voters will head to polls in closely watched primary races in Arizona, Florida and Oklahoma Tuesday ... Arizona Republicans will decide who will be the winner of one of the most bruising primaries this election season, as candidates fight to get the party's nod to replace outgoing Sen. Jeff Flake. In the race, two-term Rep. Martha McSally has emerged as the frontrunner as she fends off challenges from the right in the forms of former state Sen. Kelli Ward and Sheriff Joe Arpaio. But whoever wins the primary will face a tough Democratic challenge as Democrats eye the state as one that can be flipped in November.
In Florida, five Democratic candidates are vying for Florida GOP Gov. Rick Scott's seat in Tuesday's primary. However, the crowded Democratic race arguably has been overshadowed by the Republican primary where Rep. Ron DeSantis is wielding a Trump endorsement against Agriculture Commissioner Adam Putnam. Still, FOX News rates the race for the open seat a "toss up" in November, as Democrats eye a potential pickup.
In Oklahoma, the race for the GOP nomination in the race for governor could hinge on the state's geography and the candidates' allegiance to President Trump. Longtime Oklahoma City Mayor Mick Cornett and Gateway Mortgage Company founder Kevin Stitt have touted their conservative credentials as they seek to replace term-limited GOP Gov. Mary Fallin. Cornett has come under fire from Stitt, who attacked the former mayor in one ad as not being supportive enough of Trump or his immigration policies.
'I AM BETTER OFF FOR HAVING KNOWN JOHN MCCAIN': A visibly shaken Sen. Lindsey Graham reminisced about the late Sen. John McCain in an interview with FOX News' Sean Hannity Monday night ... The South Carolina Republican acknowledged he's shed many tears over McCain's death, but vowed to give his longtime friend and colleague "the send-off he deserves" when he takes the Senate floor on Tuesday. "I have cried a lot, and I am going to try to get over it," Graham told Hannity. "Now I'm going to speak tomorrow in the Senate. [McCain's] desk was right by mine and I hope I don't crack up."
LANNY DAVIS FUMBLES: Lanny Davis, the high-powered attorney of President Trump's longtime "fixer"-turned-foe Michael Cohen, has admitted he was an anonymous source for a bombshell CNN story on the infamous 2016 Trump Tower meeting — after The Washington Post outed him as a source for its own story ... Davis told BuzzFeed News Monday night he regretted being the anonymous source as well as his subsequent denial. The CNN story, which cited multiple "sources," claimed Cohen said President Trump knew in advance about the Trump Tower sit-down. "I made a mistake," Davis told BuzzFeed.
CNN, which has stood by its reporting, did not immediately respond to Fox News' request for comment. Davis spent recent days walking back his bombshell assertions that his client could tell Special Counsel Robert Mueller that Trump had prior knowledge of the meeting with a Russian lawyer discussing potentially damaging information on Hillary Clinton.
THE ART OF THE DEAL: President Trump on Monday said he plans to terminate the existing North American Free Trade Agreement, as he announced a new tentative agreement between the United States and Mexico that he described as "one of the largest trade deals ever made" ... "I'll be terminating the existing deal and going into this deal," the president said in the Oval Office, calling it a "big day for trade." The president said "we'll see" if Canada can still be part of the trade pact, leaving open the possibility of separate agreements. Trump said he wanted to get rid of the name "NAFTA" because it has bad connotations. He said he planned to call the deal the "United States-Mexico Trade Agreement" instead.
MATT LAUER COMEBACK IN THE WORKS? - Disgraced "Today" anchor Matt Lauer is telling supporters that he'll be back on TV ... Sources told Page Six that Lauer — who was fired in November by NBC over sexual­ harassment accusations — was recently spotted at an old haunt of his, Donohue's Steak House, telling fans that his return was imminent. "A group of older ladies came over to Lauer, saying, 'We miss you!' " a source told us. The source said that Lauer told the fans, "I've been busy being a dad. But don't worry, I'll be back on TV." Reports have said that Lauer is hoping for a comeback. He also apparently still has some supporters in broadcasting: Page Six reported in June that Lauer was seen at lunch with a former "Today" senior producer.
AS SEEN ON FOX NEWS
A WAY TO TRULY HONOR MCCAIN: "More troubling is the claim -- that it's "despicable" not to mourn McCain in a certain way. Not just impolite, but immoral and forbidden. When people in authority decide they can dictate what emotions you're allowed to feel, you should worry. McCain knew that well. He spent five and a half years as a captive in a society like that ... John McCain was a complicated person but a great man. If you really want to honor his memory, let people make up their own minds." – Tucker Carlson, on "Tucker Carlson Tonight," reflecting on the left's hypocrisy in its tributes to Sen. John McCain. WATCH
WITH FRIENDS LIKE THESE ... - "Is Michael Cohen really being served well in this case by his attorney? As Lanny Davis has said, his client would never accept a pardon from President Trump. Okay, he would rather serve five years in prison? That really was a bad thing for any attorney to say." – Sean Hannity, in his opening monologue on "Hannity" sounding off on Cohen attorney Lanny Davis' mistakes and gaffes in recent days.
TRENDING
'Dine-and-dash dater' faces 10 felony counts for allegedly skipping out on dates before bill: report.
Tennessee mom finds hidden camera inside teddy bear child won at county fair, police say.
Ferrari owned by Navy veteran for 58 years sells for $5 million.
THE SWAMP
'Abolish ICE' sees little support among Democrats despite left-wing push, poll finds.
Socialist NY Senate candidate challenged over claims of being an immigrant, Jewish.
Federal court again orders North Carolina congressional districts redrawn.
ACROSS THE NATION
Jacksonville gaming tournament shooter had been hospitalized for mental illness, documents show.
Cigarettes and fireworks may have caused Chicago apartment fire that killed nine, authorities say.
California lawmakers approve tougher restrictions on firearms possession, report says.
MINDING YOUR BUSINESS
CEO says EA 'deeply affected' by Jacksonville shooting.
Tesla shares lower after company abandons plans to go private.
Maria Sharapova is taking her candy brand to the next level, here's how.
Warren Buffett eyes investment in India-based tech company.
These are the most valuable cities in the U.S.
JetBlue increases fees for checked bags.
FOX NEWS OPINION
Cal Thomas: Mark Penn was right about Trump, Hillary and double standards. Trump should respond by doing this.
Vets in tech: Silicon Valley must lead the way.
Darryl Henley: I went from LA Rams cornerback to prison. Here's what I've learned about reform.
HOLLYWOOD SQUARED
Seth Rogen's AMC series 'Preacher' features Nazi wearing MAGA hat in season finale.
'Roseanne' star John Goodman defends Roseanne Barr, says ABC's swift cancellation was a 'surprise.'
Rose McGowan tells Asia Argento: 'Be the person you wish Harvey could have been.'
DID YOU HEAR ABOUT THIS?
Monster squid goes viral after it washed up in New Zealand.
'Killer robots' are coming and the world is trying to figure out what to do with them
Kansas woman reunited with lost dog weeks after he was thrown from vehicle in fatal crash.
STAY TUNED
On Facebook:
Check out 'FOX News Update,' our new Facebook-exclusive news program!
On FOX News:
FOX & Friends, 6 a.m. ET: Florida gubernatorial candidate Ron DeSantis makes his case on primary day. Geraldo Rivera goes with DEA agents as they bust pharmacies for overprescribing opioids. Sen. Lindsey Graham reflects on the life and legacy of Sen. John McCain. Larry Kudlow, director of the National Economic Council, on the new U.S.-Mexico trade agreement and the state of the economy. Dana Loesch shares her message for Twitter after receiving threats.
Your World with Neil Cavuto, 4 p.m. ET: Don't miss highlights of Neil Cavuto's interview with former President Jimmy Carter from FBN's "Cavuto: Coast to Coast."
FOX News @ Night, 11 p.m. ET: Special guests include: Rep. Jim Jordan on Justice Department official Bruce Ohr's testimony on the Steele dossier.
On FOX Business:
Mornings with Maria, 6 a.m. ET: Commerce Secretary Wilbur Ross on the U.S-Mexico trade deal that could replace NAFTA. Other special guests include: former New Mexico Governor Bill Richardson and Sharon Miller, Bank of America head of small business.
Varney & Co., 9 a.m. ET: Former SEC attorney Teresa Goody; Rep. Andy Biggs; NFL great Joe Theismann; Rep. Tom Reed.
Cavuto: Coast to Coast, Noon ET: Former President Jimmy Carter will discuss the passing of Sen. John McCain, the state of the U.S. economy and how Washington has changed.
On FOX News Radio:
The FOX News Rundown podcast: President Trump announced Monday the U.S. and Mexico are working towards a new trade agreement that is set to replace NAFTA. The "understanding" addresses several key trade issues, with the hopes of getting Canada to sign on. FOX Business Networks' Susan Li discusses the revised agreement. Lawmakers are expected to question Justice Department official Bruce Ohr in a closed door session about his ties to the Trump dossier. FOX News contributor and Washington Examiner chief political correspondent Byron York breaks down what to expect from Ohr's testimony. Plus, commentary by FOX News medical correspondent, Dr. Marc Siegel.
Want the FOX News Rundown sent straight to your mobile device? Subscribe through Apple Podcasts, Google Play, and Stitcher.
The Brian Kilmeade Show, 9 a.m. ET: Michael Cohen attorney Lanny Davis' gaffes, Tuesday's primaries and their potential impact on the midterms and Sen. John McCain will be the featured topics with special guests: Allen West, Ann Coulter, Brad Blakeman, A.B. Stoddard and Chris Stirewalt.
The Tom Shillue Show, 3 p.m. ET: Tom Cotter, comedian and former runner-up on "America's Got Talent," joins Tom Shillue's nightly panel to discuss a possible Matt Lauer comeback and the latest news of the day!
#OnThisDay
1963: More than 200,000 people listen as the Rev. Martin Luther King Jr. delivers his "I Have a Dream" speech in front of the Lincoln Memorial in Washington, D.C.
1955: Emmett Till, a black teenager from Chicago, is abducted from his uncle's home in Money, Miss., by two white men after he had supposedly whistled at a white woman; he would be found brutally slain three days later.
2005: New Orleans Mayor Ray Nagin orders everyone in the city to evacuate after Hurricane Katrina grows into a monster storm.
FOX News First is compiled by FOX News' Bryan Robinson. Thank you for joining us! Enjoy your day! We'll see you in your inbox first thing Wednesday morning.