FOX NEWS FIRST: Bannon trashes McConnell, GOP elites in Alabama; America's Team kneels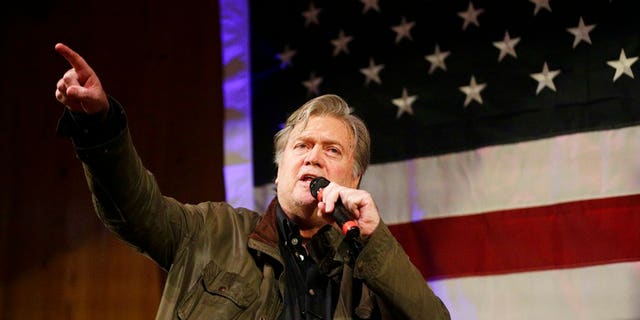 TOP OF THE MORNING
It's Tuesday, Sept. 26, 2017 ... Welcome to Fox News First, your destination for all the news you need to start the day ... If you have friends who are looking for an early morning news fix, please spread the word: They can subscribe to Fox News First by clicking here.
Here's your Fox News First 5 - the first five things you need to know today:
Ex-Trump strategist Steve Bannon lambasts GOP "elites" in "Hannity" interview 
The Dallas Cowboys kneel before the national anthem in Monday night game 
Republicans look for options after the latest GOP ObamaCare repeal bill effectively dies
Attorney General Sessions to declare freedom of speech is "under attack" on campuses
Power grid security concerns grow as tension between U.S., North Korea escalates
Let's do this ...
THE LEAD STORY: Former White House chief strategist Steve Bannon blasted Senate Majority Leader Mitch McConnell and GOP establishment "elites" working against President Trump in a an exclusive cable news interview on "Hannity" ... "The elites hold me in contempt," Bannon said. "They think I'm a bad guy. They think I'm a dangerous guy. I wear their contempt as a badge of honor." Bannon was in Alabama stumping for Republican Senate candidate Roy Moore, who is running against incumbent Sen. Luther Strange, who has been endorsed Trump. He accused McConnell and other Republicans on the hill of trying to sabotage Moore's campaign ahead of the runoff vote today.
"AMERICA'S TEAM" BENDS THE KNEE: The Dallas Cowboys, along with owner Jerry Jones, briefly knelt before the national anthem ahead of their Monday night game against the Arizona Cardinals, capping off a weekend of NFL player protests during the anthem itself ... More than 200 NFL players made some form of gesture at games on Sunday — many kneeling or sitting on the bench — in reaction to comments and tweets by President Trump, who called on team owners to fire players who followed former San Francisco 49ers quarterback Colin Kaepernick's lead by kneeling during the national anthem. Typically, ESPN does not televise the national anthem on Monday Night Football programming -- but the events of the weekend brought the anthem in sharp focus.
GOP CHANCES FOR OBAMACARE REPEAL AND REPLACE "BLEAK": Republicans hope they can resuscitate their latest push for an ObamaCare repeal bill after Sen. Susan Collins said she will vote against the Graham-Cassidy legislation ... Their strategy would be an attempt to change opposing senators' minds, which they've tried unsuccessfully to do for months. Sen. John Thune told reporters there were "a lot of conversations" still going on, but he conceded a GOP ObamaCare repeal revival would be "a heavy lift." Collins is the fourth GOP senator to come out against the Graham-Cassidy legislation, joining Sens. John McCain, Rand Paul and Ted Cruz. However, Cruz aides said he is seeking changes to the bill so he can vote in favor of it.
PC CULTURE GONE WILD ON CAMPUSES: Attorney General Jeff Sessions plans to declare freedom of speech is "under attack" at American colleges and universities, during an address today aimed at political correctness run amok on campus ... Sessions' scheduled remarks come amid a tense climate on college campuses. The University of California, Berkeley, the epicenter of this debate, just cancelled its "Free Speech Week" after protests surrounding conservative speakers, including the event's co-organizer, right-wing provocateur Milo Yiannopoulos. Other headline conservative speakers were to include Ann Coulter and Steve Bannon.
NEW QUESTIONS ABOUT U.S. POWER GRID: For more than 15 years, security and intelligence officials — including former CIA Director James Woolsey — have been raising the alarm bells about the vulnerability of the U.S. power grid to an electromagnetic pulse (EMP) attack ... Only now as tensions with North Korea quickly escalate — with the rogue nation refusing to back down from its nuclear testing and threats of such an onslaught — is the matter really generating attention. But according to U.S. defense and security officials, while there are players purporting to protect the nation's critical infrastructure, no one really knows what will happen and what can be done.
ABOUT LAST NIGHT
SOME ADVICE TO NFL PLAYERS: "They need to get up and do something about it. They need to not just protest but they need to get up and they need to be part of the national conversation to make America better. To make their communities better, to take their responsibilities. ... Secondly, you know, I thought about it after I looked at, again, what Pittsburgh did. Maybe we should not allow them on the field unless they can't stand in honor of the flag and the national anthem. Maybe they should be restricted from the field unless they plan to honor the flag and honor the national anthem as all the fans do in the stands." – former NFL player Michel Faulkner, on "Tucker Carlson Tonight," urging current athletes to get involved in their communities and do more than kneel during the national anthem. WATCH
MULTIMILLIONAIRES IN NEED OF THERAPY: "Take a knee - at night. Every night. And, thank God in heaven that President Donald J. Trump is president of the United States."– Steve Bannon, former Trump White House adviser, on "Hannity," saying he could agree with NFL players kneeling to the ground under certain conditions. WATCH
MINDING YOUR BUSINESS
Did Target aim for $15 minimum wage too soon?
Gas prices take a breather after post-Harvey spike
SEC chief Clayton's cyber-toughness under scrutiny
Bass Pro, Cabela's complete merger
NEW IN FOX NEWS OPINION
Gregg Jarrett: Trump is correct, NFL teams can legally fire players for their conduct
"Make America Great Again" singer asks, "Are we living in 1984?"
Geraldo Rivera: Touring Puerto Rico after Hurricane Maria was "depressing"
Hollywood confession: I can't stomach voting for Academy Awards anymore

HOLLYWOOD SQUARED
Marc Anthony to Trump: Shut the f--- up about NFL, worry about Puerto Rico
Lena Dunham compares Donald Trump to Dylann Roof in tweet
Singer Jessie James Decker stands with national anthem in NFL kneeling controversy
Big Bang Theory Season 11 premiere recap: Did Amy say "yes"?
DID YOU HEAR ABOUT THIS?
L.A. "UFO" mystery solved
Cancer in elephant treated with unprecedented approach
Texas doughnut shop offers scary clown delivery
When you're in constant pain and nobody believes you
STAY TUNED
On Fox News:
Fox & Friends, 6 a.m. ET: Fred and Cindy Warmbier give their first interview since the tragic death of their son Otto, following his release from captivity in North Korea; Sen. Luther Strange speaks out as Ala. voters head to the polls for the Senate runoff election; Geraldo Rivera reports on the latest recovery struggles in Puerto Rico following Hurricane Maria
America's Newsroom, 9 a.m. E.T.: RNC Chair Roma Romney McDaniel and Sen. Mike Lee on the latest GOP struggle for health care reform and more
The Story with Martha MacCallum, 7 p.m. E.T.: Counselor to President Trump Kellyanne Conway takes on the Trump vs. NFL, the latest developments in the quests for ObamaCare replace and repeal, tax reform and more
Tucker Carlson Tonight, 8 p.m. E.T.: Legendary football coach Lou Holtz sounds off on the NFL national anthem protests controversy; Attorney General Jeff Sessions discusses measures to protect free speech on college campuses; Alan Dershowitz takes on planned protests before his scheduled speech at Columbia University
Hannity, 9 p.m. E.T: Don't miss Sean's must-see interview with former Fox News host Bill O'Reilly
On Fox Business:
Mornings with Maria, 6 a.m. ET: Sen. David Perdue and Hyatt CEO Mark Hoplamazian on the hot topics of the day, including tax reform, the Trump-NFL spat and more
Varney & Company, 9 a.m. E.T.: Former NFL great Nick Lowery gives his take on the NFL and kneeling during the national anthem; Governor Ricardo Rosselló on Puerto Rico's recovery struggles after Hurricane Maria
The Intelligence Report, 2 p.m. E.T.: Rep. Marsha Blackburn on the apparent death of Graham-Cassidy ObamaCare repeal legislation
Countdown to the Closing Bell, 3 p.m. E.T.: Matt Salo, National Association of Medicaid Directors CEO, on the latest updates in GOP health care reform
The Brian Kilmeade Show, 9 a.m. E.T.: Brian talks to Bill O'Reilly about the political hot topics of the day
The Todd Starnes Show, 12 noon E.T.: Kellyanne Conway talks tax reform and the GOP's health care reform woes
#OnThisDay
1986: William H. Rehnquist is sworn in as the 16th chief justice of the United States, while Antonin Scalia joins the Supreme Court as its 103rd member.
1960: The first-ever debate between presidential nominees takes place as Democrat John F. Kennedy and Republican Richard M. Nixon face off before a national TV audience.
1957: West Side Story the musical opens on Broadway.
1914: The Federal Trade Commission is established.
Thank you for joining us on Fox News First! Enjoy your Tuesday and see you in your inbox first thing tomorrow morning!