Four bodies found after Cleveland house fire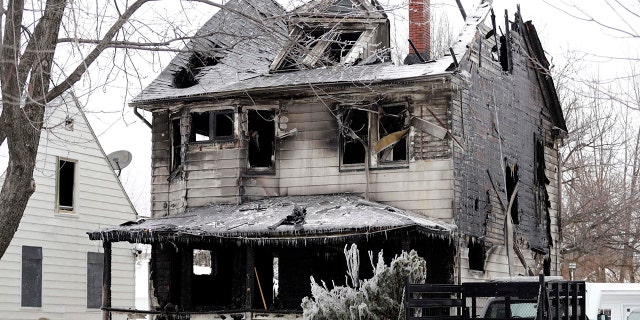 A fourth body was found Tuesday night in the charred remains of a Cleveland house where three bodies were found hours earlier.
The cause of the fire remained under investigation, authorities said. Killed in the blaze were Alfonso Lathan Jr., 46; his son, Alfonso Lathan III, 3; his granddaughter, Nyiah Lathan, 8; and Lathan's 44-year-old nephew, whose name could not be confirmed, the Cleveland Plain Dealer reported.
The bodies of the first three victims were found Tuesday afternoon, about 14 hours after the fire began around 1 a.m.
The fourth body Tuesday night, as crews continued searching through debris as they demolished the home.
Lathan's wife, Gianna Lathan, had escaped from the house by jumping from a second-floor window, fire department spokesman Mike Norman said. She was being treated at a hospital for unspecified injuries.
The woman told fire officials that she and her husband woke up when smoke filled the house, Norman said. She said they both tried but were unable to get to the children's rooms.
Firefighters needed about 90 minutes to quell the blaze, Norman told the Plain Dealer.
Lathan's sister, Sharon Kemp, and her daughter Shalean Kemp identified the victims, the newspaper reported.
Fire officials said they believe Alfonso Lathan died trying to save the rest of his family. He and his son were found in the basement, while Nyiah was found on the first floor and the nephew was found in the kitchen, officials said.
The Associated Press contributed to this story.