For Super Bowl, Philadelphia police will use gear oil to grease poles, report says
Officials in Philadelphia are going to try out another method to keep Eagles fans off poles on Sunday when their beloved team faces off in the Super Bowl against the New England Patriots.
After Crisco failed to keep fans off poles when the Eagles beat the Minnesota Vikings in the NFC championship game, police are now going to use a form of gear oil this weekend, FOX29 reported. Police officers said they were greasing the poles to prevent any fan injuries.
Gear oil has the consistency of molasses, and anyone planning on scaling a pole wearing their favorite Eagles jersey may be in trouble when trying to clean it up, according to Tom Flora, who works at the Evans Gulf station.
"It's thick. You can't get it off your clothes," Flora told FOX29. "It smells and really tough to clean up."
PHILADELPHIA CITY CREWS GREASE POLES BEFORE EAGLES, VIKINGS FACE OFF IN NFC CHAMPIONSHIP GAME
Flora added that even a trip to the dry cleaner may not be enough.
"The clothes are ruined," he said.
Law enforcement sources told FOX29 that Philadelphia police are planning to grease poles along the city's main drag, Broad Street, and in other sections of the city for Sunday's matchup.
PHILADELPHIA DOUGHNUT SHOP MAKES GREASED POLE DOUGHNUT FOR EAGLES FANS
Anyone who heads out to join the celebrations will see authorities out in force, including mounted police on street corners.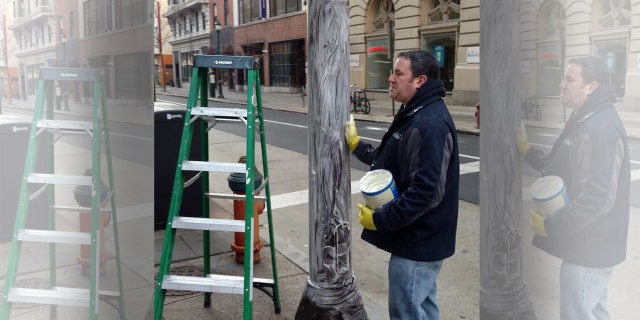 "We are about business, but we are also about letting people celebrate as long as it's done peacefully," Philadelphia Police Commissioner Richard Ross said earlier this week.