Florida woman, 99, helps children around the world, one stitch at a time
CLEARWATER, Fla. – Martha Heft was 5 years old when she became fascinated by her mother's pedal sewing machine. A natural from the start, she quickly picked up the skill and developed a hobby she has enjoyed for the past 94 years.
"I took home economics in high school because I knew with sewing, I would have no trouble getting an A," Heft said. "It's a joy, an accomplishment and a pleasure."
Now 99, a grandmother of eight and great-grandmother of 16, she is using her love of sewing to help others, both locally and internationally, one stitch at a time.
Heft has helped create 670 quilts that have been distributed to local non-profits, dozens of dresses for underprivileged little girls in Haiti after a massive earthquake rattled the island in 2010, and most recently, over 60 dresses for little girls in Puerto Rico, following the death and destruction Hurricane Maria caused last September.
The handmade dresses are created from donated pillowcases, which Heft transforms until the finished product is incomparable to its original state.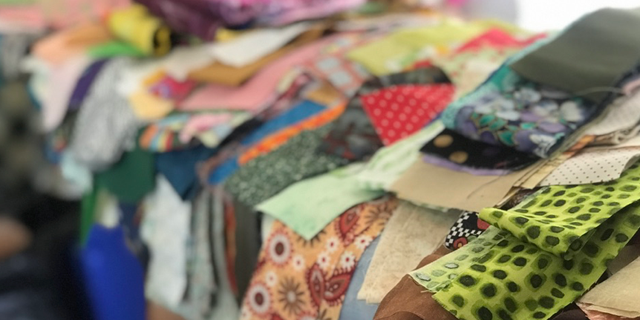 Heft's granddaughter and her husband, who serves as the Palm Beach County Sheriff's Office's community outreach coordinator, flew to Puerto Rico last month to hand-deliver the delicate dresses to little girls at Regazo de Paz, a children's home in Aguadilla that houses up to 15 orphaned or abused children up to the age of 8.
"They were beautiful, each one had its own special touch," said Magdalena Jimenez, the executive director of the children's home, through tears. "We need people with the heart this lady has…it's a blessing to know people like that."
The dresses come in different sizes and colors and are adorned with various trims, pockets and collars.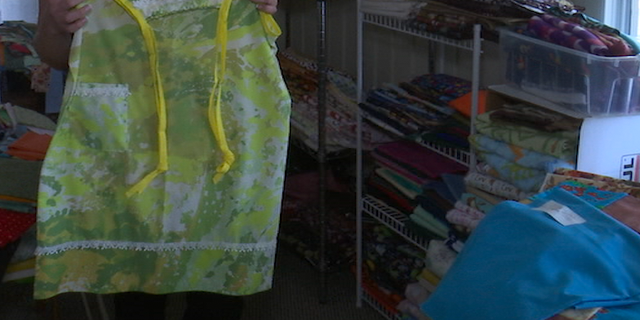 Attached to each dress was a unique and inspirational note written in Spanish.
"Smile because we love you," one read.
Heft's love of sewing is evident as one strolls around her humble Clearwater, Fla. home.
Her treasured sewing machine and a bowl full of pins replace plates and cups on her dining room table. Drying racks for damp clothes have another use under her roof—to hold large vibrant quilts, each with its own theme and color scheme. One of two sofas in her bright living room carries small mountains of little dresses, so delicate and innocent, you might think they were made for a doll.
Shelves holding folded pillowcases and hundreds of pieces of scrap fabric line an entire room of her home dedicated to her hobby. Post-its are pinned to each folded fabric piece with planned measurements written in Heft's neat cursive handwriting.
The Ohio native gathers for a few hours every Monday with about six other women at Heritage United Methodist Church to sew dresses and quilts, and sneaks in a few hours of sewing during the week for what she calls "her addiction."
She is overwhelmed with joy when she sees how many donations her church receives, but says she still needs more scrap cotton fabric, cotton pillowcases, quilt batting and thread to keep up with the demand of her charitable work.
The only day you won't find her sewing? Sunday.
Sundays, she said as she methodically folds colorful pieces of fabric, are meant for rest.
"Our church's mission motto is 'across the street and around the world'," said Jean Albert, one of Heft's three daughters. "So, we do the quilts locally and then the pillowcase dresses go internationally."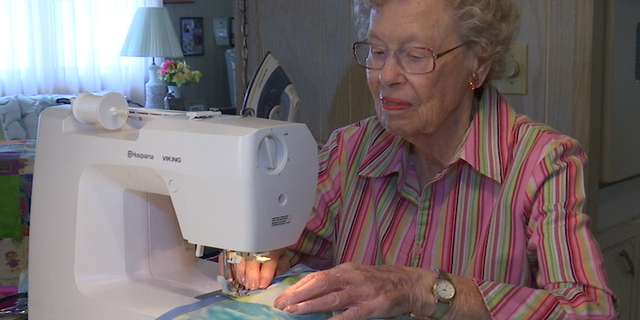 Albert said her mother wears her heart on her sleeve and has always loved charity work.
"She's an inspiration," Albert said. "We kind of have to pinch ourselves to remember that she is the age she is and she stays as active as she does."
Heft said she hopes her legacy will teach people to use God as their partner to find contentment in life and hopes she can keep sewing for years to come.
"I hope God graces me five more years when you see all the fabric my daughter and I have to sew!" she said.
Heft said that because her 100th birthday falls on a Thursday this year, she still plans to sew, but will find time to celebrate at a party she says her three daughters are busy planning for her.