Florida man holds burglary suspect at gunpoint until police arrive
A would-be burglar in Florida had his plans foiled Saturday after he encountered an armed homeowner, according to officials.
The Volusia County Sheriff's Office said the incident took place in New Smyrna Beach around 11:15 a.m. when a woman called 911 to report a stranger on her property.
When the woman's husband walked outside to check the situation out, he told deputies he found the man standing at the door to his garage with his hand on the doorknob.
NORTH CAROLINA MAN HOLDS BURGLARY SUSPECTS AT GUNPOINT OUTSIDE OF HOME IN VIDEO
"He's on the ground at gun point, ma'am. He's cursing at me," the man told a 911 dispatcher in audio obtained by FOX35. "I'm out here with my wife. Please get them here."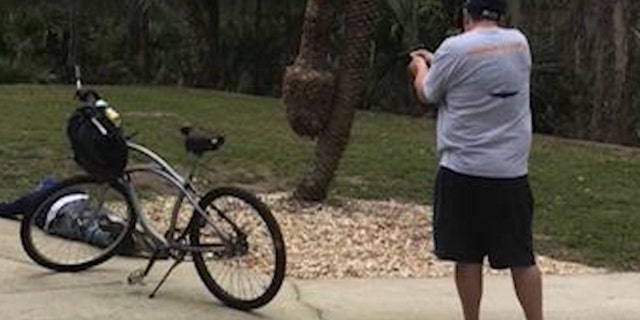 The man told the suspect, identified as 39-year-old Patrick Edwards, to get on the ground and he complied.
FBI SEARCHING FOR TRAILER HOLDING $65G WORTH OF ENERGY DRINKS
Once deputies got to the home located south of Daytona Beach they allegedly found a syringe, tools and gloves on Edwards.
The 39-year-old told police he was lost and looking for a neighbor, according to an incident report obtained by the television station.
CLICK HERE FOR THE FOX NEWS APP
Edwards was charged with attempted burglary and possession of burglary tools, according to police.