Florida man caught on video tying 8-foot gator behind ATV, dragging it back and forth across pavement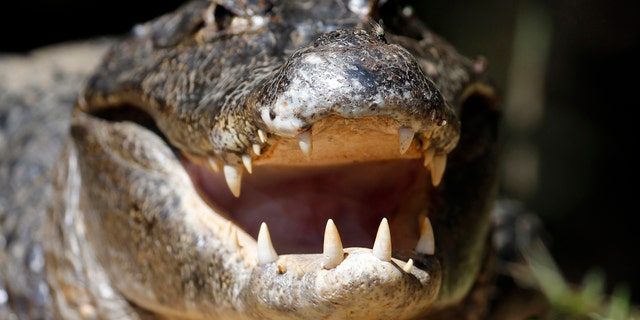 NEWYou can now listen to Fox News articles!
A disturbing Snapchat video circulating online shows a Florida man tying an 8-foot alligator to the back of his ATV and then swerving wildly back and forth across a road.
The alligator is seen swinging helplessly behind the vehicle -- at times barrel rolling into a patch of nearby grass -- as onlookers watch the shocking scene unfold near County Line Ditch Road in Mims, Florida. The incident was reported to the Florida Fish and Wildlife Conservation Commission (FWC), who then dispatched officials to the scene.
A trapper with the FWC's Statewide Nuisance Alligator Program (SNAP) arrived at the location and took possession of the alligator, Tammy Sapp, spokeswoman for the state wildlife commission, confirmed to Fox News.
"The FWC received information about a subject dragging an alligator out of a public roadway," Sapp said. "The FWC takes this seriously and after reviewing the video, will be conducting a thorough investigation into the incident."
Sapp said the investigation is "ongoing," and did not reveal any further details, including the identity of the man involved.
FWC officials informed WFTV that they had spoken with the man in the video, and they're still trying to determine what happened. Some claimed the gator was blocking traffic at the time of the incident, but exact details are still unclear.
"He's not being charged at this time," FWC spokesman Chad Weber told the news station. "We are going to go through [the] appropriate channels, collect all the evidence and present a package to the state attorney's office and allow them to work through that."
The intent behind the man's actions will determine what charges -- if any -- he faces.
Floridians who viewed footage of the incident on Facebook expressed outrage.
"Today's Gator Story, wherein a gator meets a truly dangerous and ruthlessly savage creature: A Floridian," one Tampa resident wrote.
"I hope the outrage from this video absolutely destroys the [person] responsible for this horrific act of cruelty as it's doubtful our laws will be able to do much of anything," another added.
Some compared the act to an animal cruelty case in July 2017, where three Florida men were seen in a viral video dragging a shark at a "high speed" behind their boat.
Alligators are starting to become more active as the temperature rises. Therefore, Sapp warned, Floridians should stay alert.
"[They] become more visible and active during spring," Sapp warned. "Their metabolism increases and they begin seeking prey items."
Sapp advised keeping a safe distance from gators.
Anyone who believes an alligator is posing a "threat to people, pets or property" should call FWC's toll-free hotline at 866-FWC-GATOR, Sapp said.