Florida deputy kills family, calls officers over radio to say he 'caused harm' before killing self, cops say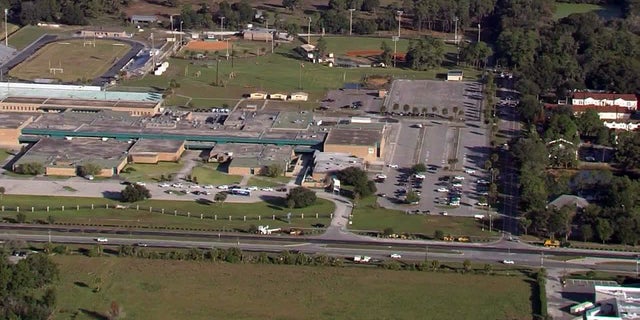 A Florida deputy killed three family members, then confessed to the crime over a chilling radio call to other officers before killing himself near a school, despite colleagues' pleas on Wednesday, police said.
Authorities were called to the scene near Plant City High School after the Hillsborough County sheriff's deputy provided details of murders that occurred in two homes, FOX13 reported.
"Today, I stand in front of you with an extremely heavy heart," Sheriff Chad Chronister said at a news conference. "Saddened and disheartened about the events that occurred early this morning."
The deputy was later identified on Twitter by Chronister as Terry Strawn, 54. The sheriff also revealed the deceased family members' names.
"Victims involved in this morning's murder/suicide are, 54yr old Theresa Strawn (wife), 32yr old Courtney Strawn (daughter), and 6yr old Londyn Strawn (granddaughter)," Chronister tweeted.
The deputy got on the Hillsborough County Sheriff's Office's main radio channel just after 6:30 a.m. Wednesday and told officers he "caused harm to his family," Chronister said. The deputy said he killed two family members at one home and another at a second residence and provided details on where to locate their bodies.
The deputy said during the radio transmission that he was going to kill himself at the high school, prompting officers to rush to his location in an attempt to stop him.
Despite their efforts, he took his own life in front of his colleagues, according to police.
"Unfortunately, the deputy took his own life on (the) scene in front of the three deputies," Chronister said.
Police later found a woman and a child dead inside a home. Another woman was located at the second residence the deputy described.
It's unclear why the deputy carried out the slayings. Chronister said the deputy mentioned health and financial issues during his cryptic radio transmission.
"We're not exactly certain what that means," Chronister added. "That will be part of the investigation."
The deputy began working for the Hillsborough County Sheriff's Department in 1991 before retiring in 2017, Chronister tweeted. He "returned to service in July," the sheriff said.
Chronister said the deputy previously received "glowing" recommendations and there was "no indication whatsoever" that he would commit a crime.
Fox News' Elizabeth Zwirz contributed to this report.