Florida dad, teen son found dead in scuba diving accident testing out Christmas gifts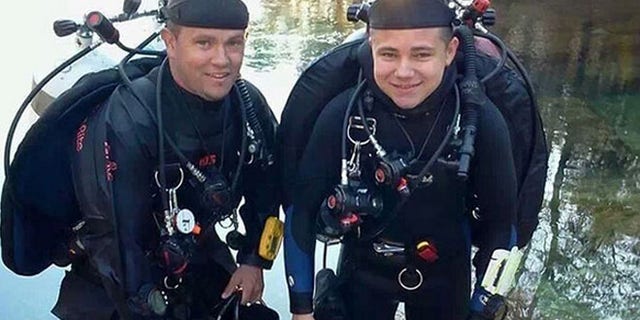 A Florida father and his teenage son, anxious to try out new scuba diving equipment they received for Christmas, drowned during a cave dive Wednesday, MyFoxTampaBay.com reported.
Darrin Spivey and Dillon Sanchez, his 15-year-old son, were last seen alive entering the Eagles Nest Sink location in Weeki Wachee, a town north of Port Richey on the state's west coast. There's a sign near the pond's entrance alerting divers that the cave is dangerous and intended for advanced divers.
Spivey was an experienced diver but his son was not certified. Neither were experienced in cave diving. The two were seen by a hunter who saw them suited up at 11 a.m. Christmas morning and when he returned at about 6 p.m., he noticed their car was still there.
[pullquote]
After the two failed to return home, Spivey's fiancée alerted authorities. She also took a dive when she saw their car still parked near the diving location, Denise Moloney, a Hillsborough County Sheriff's Office spokeswoman said.
"She wasn't able to find them. We sent divers down Christmas night, and they found Mr. Sanchez at about 67 feet and Mr. Spivey at 127 feet."
The two were found at about 8:30 p.m.
Robert Brooks, an experienced cave diver who knew Spivey, told The Tampa Bay Times that it seems as though their deaths could have been avoided.
"The sad thing is, I told him, 'One night they're going to call me to come get you,"' Brooks, who worked in their recovery effort, said.
Click for more from MyFoxTampaBay.com