Father of victim in deadly California shooting rampage makes tearful plea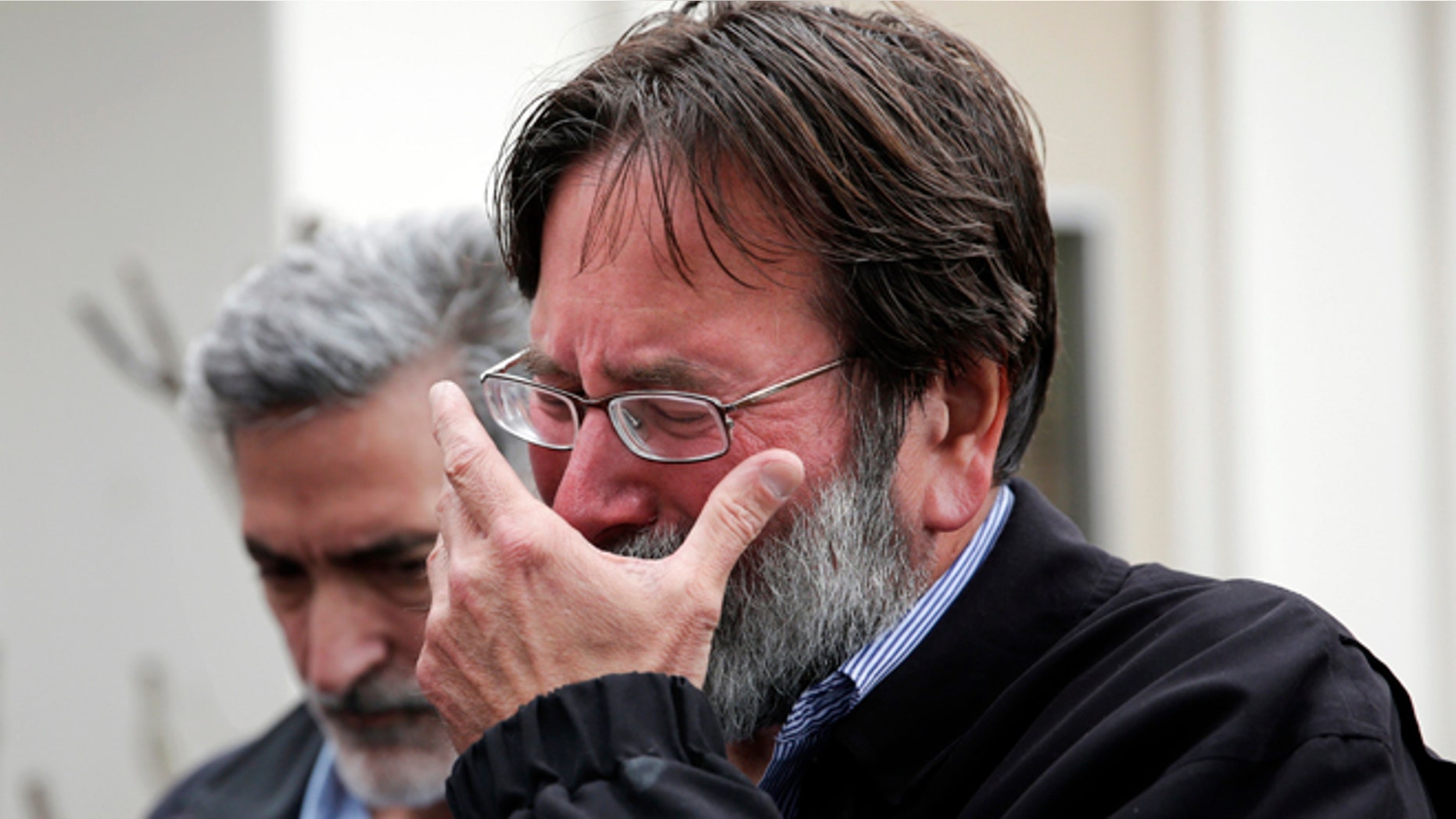 A father whose son was among the victims killed in a shooting rampage near the University of California at Santa Barbara voiced anger at gun laws while saying his family is "lost and broken."
"Our son Christopher and six others are dead," Richard Martinez told reporters gathered outside a sheriff's station for a news conference on Saturday, one day after the shootings near the university, where the 20-year-old son was a sophomore. "You don't think it'll happen to your child until it does."
Christopher Ross Michaels-Martinez, of Los Osos, Calif., was the last of six people killed by suspect Elliot Rodger, 22, before the gunman apparently shot and killed himself, authorities said.  Michaels-Martinez was shot in the head while he was getting a snack, police say.
Martinez said he talked to his son just 45 minutes before he died inside the IV Deli Mart in Goleta, where bullet holes and blood could still be seen on Saturday. Michaels-Martinez was an English major who planned to go to London next year and to law school after graduation, his father said.
"Chris was a really great kid," Martinez said. "Ask anyone who knew him. His death has left our family lost and broken."
Martinez choked back tears as he spoke, then grew angrier as he talked about gun laws and lobbyists.
"The talk about gun rights. What about Chris' right to live?" Martinez said. "When will enough people say: 'Stop this madness! We don't have to live like this! Too many people have died!"
He then punctuated his words as he said, "We should say to ourselves: 'Not! One! More!'" before dissolving into tears and falling to his knees as he stepped from the podium.
The heartfelt plea came the same day as surveillance footage taken from cameras at the IV Deli Mart was released.
In the footage, shoppers are seen running for cover, crouching behind store aisles as glass from refrigerator doors is seen shattering after being struck by a bullet.
The White House issued a statement Sunday on the massacre.
"The President and First Lady's thoughts and prayers go out to the families and friends who lost a loved one as a result of the horrific shooting," said White House Assistant Press Secretary Bobby Whithorne. "Yesterday the President was briefed by Lisa Monaco, Assistant to the President for Homeland Security and Counterterrorism. The President will continue to be updated as new information becomes available."
The evening of violence gripped the small beachside community of Isla Vista, Calif., where authorities say Rodger, the son of a Hollywood director, fatally stabbed his three male housemates -- Cheng Yuan Hong, 20, George Chen, 19, and Weihan Wang, 20 -- before getting into his BMW and killing three others in drive-by shootings while injuring 13 more.
Hours before that, authorities say, Rodger looked into a video camera and vowed that he would kill those with a good life, especially women who had shunned his advances.
The rampage was "the work of a madman," Santa Barbara County Sheriff Bill Brown said during a news conference Saturday morning.
The deadly scenario played out largely as Rodger laid it out in his public statements, including a 140-page manifesto and a YouTube video in which he sits in the BMW he later used as a weapon in sunset light and appears to be acting out scripted lines and planned laughs.
"I'll take great pleasure in slaughtering all of you," Rodger, the son of a Hollywood director who worked on "The Hunger Games," says in the video posted Friday and taken down by YouTube Saturday with a message saying it violated the site's terms of service.
"I don't know why you girls are so repulsed by me," he says in the video, describing his loneliness and frustration at never having had sex with or even kissed a girl. "I am polite. I am the ultimate gentleman. And yet, you girls never give me a chance. I don't know why."
According to a summary of the investigation released by the Santa Barbara County Sheriff's Department, at 9:30 p.m. local time Friday, Roger went to the Alpha Phi sorority house of the University of California, Santa Barbera.
"I know exactly where their house is and I've sat outside it in my car to stalk them many times," Rodger wrote in his extensive manifesto, titled "My Twisted World."
No one answered the door after one to two minutes of aggressive pounding, but he soon shot three women who were standing nearby, killing two of them, 19-year-old Veronika Weiss, of Westlake Village, Calif., and 22-year-old Katherine Cooper of Chino Hills, Calif. The third was taken to a hospital and is believed to be in serious condition.
Rodger then drove to the IV Deli Mart where he killed Michaels-Martinez.
Michaels-Martinez was the last one killed, but the rampage would continue. Investigators say that Rodger drove up and down Del Playa Drive, shooting out his driver's side window and wounding several people. He twice shot at sheriff's deputies who were responding to the various shooting scenes. On the second occasion, three deputies returned fire and struck Rodger in the left hip.
Rodger also struck two bicyclists with his car, the second of whom caved in the car's windshield. Seconds later, Rodger's BMW hit several parked cars and came to a stop. Officers arrived and handcuffed him, but he was already dead from a gunshot wound to the head that investigators believe was self-inflicted.
Thirteen people were injured, eight from gunshot wounds, four from the vehicle and one whose origin wasn't clear. Just four of the injuries were considered serious. In total, sheriff's deputies had to process twelve crime scenes in ten different locations.
Deputies found three semi-automatic handguns with 400 unspent rounds in his black BMW. All were purchased legally.
Rodger had been a student at various times in recent years at nearby Santa Barbara City College, but was no longer in any classes, the school said in a statement.
Authorities had had three contacts with Rodger in the past year, including one case in which he claimed to be beaten, but deputies suspected he was the aggressor.
On April 30, officials went to his Isla Vista apartment to check on him at the request of his family. But deputies reported back that he was shy, polite and having a difficult social life but did not need to be taken in for mental health reasons, Brown said. Rodger says in his manifesto: "If they had demanded to search my room ... That would have ended everything. For a few horrible seconds I thought it was all over."
Attorney Alan Shifman said the Rodger family had called police after being alarmed by YouTube videos "regarding suicide and the killing of people" that Elliot Rodger had been posting.
"The Rodger family offers their deepest compassion and sympathy to the families involved in this terrible tragedy. We are experiencing the most inconceivable pain, and our hearts go out to everybody involved," Shifman said.
The Associated Press contributed to this report.