Family says youngest Kalamazoo victim is 'alive and she is fighting'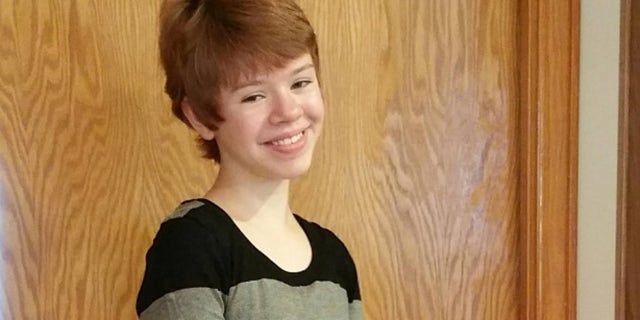 NEWYou can now listen to Fox News articles!
Authorities and family members have described how the youngest victim of Saturday night's shooting rampage in Kalamazoo, Mich. suddenly responded to her mother's voice, even as doctors were preparing to harvest her organs.
Gene and Vicki Kopf said their 14-year-old daughter Abigail was "alive and she is fighting for her life." Dr. Aaron Lane-Davies of Bronson Children's Hospital said that although Abigail remains critically ill, "we are encouraged by her relative stability over the last several days and her responsiveness to her parents and our team."
The doctor said that Abigail remained on a ventilator in critical condition.
Michigan State Police Lt. Dale Hinz told Fox17 that authorities initially believed that Abigail had been killed in the shooting outside a Cracker Barrel restaurant in Texas Township. However, Abigail suddenly squeezed her mother's hand when asked if she could hear her mother, then did so again before giving two thumbs up.
"I want everyone to understand that Abigail is strong and she is a vibrant, beautiful young lady that didn't deserve this," Vicki Kopf said, "nor did ... those other victims."
Below are some of those other victims' stories.
------
BARBARA HAWTHORNE
Barbara Hawthorne, 68, spent 22 years with Battle Creek-based Kellogg before retiring in 2008, the company's chairman said in a statement.
"We are deeply saddened by these tragic events and brokenhearted to learn that one of the victims, Barbara Hawthorne, belonged to our Kellogg family," John Bryant said in a statement. "Our thoughts and prayers are with Barbara's family and friends, as well as all of the victims of this crime and their families."
A relative reached by The AP declined to be interviewed.
Kopf's parents said Hawthorne was a grandmother figure to their daughter.
Vicki Kopf told the Battle Creek Enquirer that Hawthorne, whom she referred to as "Grandma Barb," wasn't a blood relative but was very close to her family, including Abigail.
"She took both my girls under her wing and has basically raised them both with us," Vicki Kopf said.
------
MARY JO NYE
Mary Jo Nye, a 60-year-old retired English teacher, served as "a motherly figure" to students at an alternative high school for at-risk teens, coaching even the most reluctant ones to become better writers.
The Battle Creek resident would work one-on-one with students to get them to open up verbally, then put their thoughts on paper and structure them into written compositions, said Tara Egnatuk, assistant director of the Calhoun Community High School where Nye worked.
While Nye didn't have children of her own, she played an important role in the lives of students.
"She was an English teacher, but she was a lot more than that to the students who don't come from great home lives," said Egnatuk, who was mentored by Nye during their six years of working together. "She really had a position of mentorship, kind of a motherly figure for a lot of these kids."
Since retiring, Nye enjoyed quilting, playing Scrabble and volunteering at her church while continuing to tutor students, Egnatuk said. Nye had also worked previously as a literacy specialist for the state of Michigan.
A Michigan State Police news release said Nye was shot in the driver's seat of a Chevrolet Cruze. Two of her passengers, Hawthorne and 74-year-old Dorothy Brown, were killed. The third, Abigail Kopf, was wounded. The driver of a nearby minivan, Mary Lou Nye of Baroda, whom Egnatuk believes was Nye's sister-in-law, was also killed.
"I'm getting calls and emails and messages from former students who are just devastated," Egnatuk said.
Cheryl Chubinski, a school secretary who knew Nye for 20 years, said Nye would bring in a sewing machine, do cooking demonstrations and show students how to make homemade gifts at Christmas. Helping students believe in themselves was a greater reward than monetary compensation for her friend, Chubinski said.
------
MARY LOU NYE
Mary Lou Nye maintained a positive outlook even when dealing with adversity such as rebuilding a house heavily damaged by a tornado, her neighbor said.
The 63-year-old lived with her husband, Chris, on property that had been in his family for many years, said Carol Dinges, who lives across the street in Baroda. After the tornado about five years ago, the couple had to live in their camper while the house was being fixed, but Dinges said her neighbor took it in stride.
"Every time I spoke with her, she was just pleasant," she said.
Nye worked at one time as a manager in a driver's license office, Dinges said.
The couple had two sons, though one had died at a young age from a heart ailment, Dinges said.
Nye enjoyed going on camping trips several times a year with her husband, Dinges said. The neighbors would watch each other's houses on the farmland-lined road during trips.
Nye worked part time in recent years in the preschool and childcare program at Immanuel Lutheran Ministries in Bridgman, just a few miles from Baroda. Pastor Jon Bendewald said she always had a smile on her face and was loved by the children she worked with.
"It was never about her, always about making sure things were right for the children," he said.
------
DOROTHY BROWN
After Dorothy Brown moved in two doors down from Patrick Mallon Jr. in Battle Creek about 10 years ago, the woman everyone knew as Judy would stop by to share herbs she had grown in her garden, her neighbor said.
Mallon recounted how Brown was thrilled when his granddaughters went to her home to give her tomatoes, peppers and cucumbers they had grown.
Brown would always wave and say hello when she drove off to the mall, where she walked for exercise, Mallon said. He added that whenever he and his wife went on vacation, it was Brown they would ask to keep an eye on the house and feed their cat.
And, he said, after it snowed he would make sure to shovel in front of her home -- something she'd always appreciate.
"She would give us a gift card to a nice restaurant, something like that," he said.
Mallon said Brown, 74, had two grown sons, with one living in California and the other in Florida.
------
RICHARD and TYLER SMITH
A western Michigan school superintendent said her tight-knit community is mourning the loss of senior Tyler Smith, a 17-year-old who always had a "smile on his face."
Smith was killed Saturday night along with his father, 53-year-old Richard Smith, outside of a Kalamazoo car dealership.
Tyler Smith spent half of each school day at a technical center focusing on marketing, Mattawan Consolidated Schools Superintendent Robin Buchler said. She added that her son, also a senior, described Tyler Smith as "well-liked" with a constant "smile on his face."
Strong and fast, Tyler once played soccer for Chris Keenan's Portage-based Kingdom Sports.
"He was a very talented soccer player," Keenan told The Battle Creek Enquirer. "A great teammate to everybody on the team and just ... at the end of the day, an exemplary young man. You could see his potential. You could see that he, both on and off the field, had potential."
Tyler Smith and his father were ambushed while looking at vehicles after-hours at the dealership, according to the Kalamazoo Gazette.
One of the business owners told the newspaper surveillance cameras showed the attacker approached before they had much time to react.
------
TIANA CARRUTHERS
Authorities say 25-year-old Tiana Carruthers' actions protected several children at the site of Saturday's first shooting. Carruthers, of Kalamazoo, was outside with three or four children at an apartment complex's playground when a man approached them in a car, Kalamazoo County Sheriff Richard Fuller told The Associated Press.
She sensed trouble and put herself between the car and the children, telling them to run to their nearby home, Fuller said.
Carruthers was shot was shot multiple times and severely injured.
She survived, but has had surgeries, he added.