Facial, not racial: University boss walks back racism allegation over Snapchat pic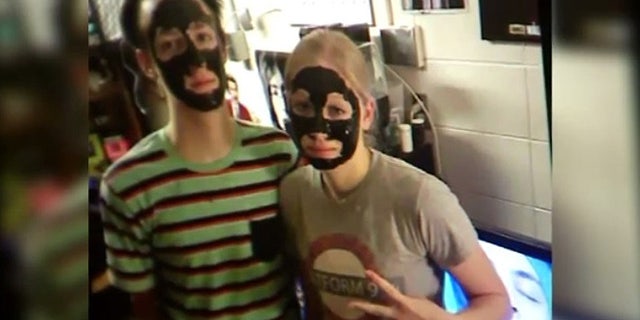 It wasn't racial, it was just a facial.
When two students at University of Wisconsin-Whitewater posted a picture on Snapchat wearing what appeared to be blackface, the school's chancellor quickly - and publicly - condemned the photo. But days later, Beverly Kopper backed off when it was revealed the students were simply wearing skin care treatment masks.
"Last night a disturbing racist post that was made to social media was brought to my attention," Kopper said in a letter released on Thursday. "This post was hurtful and destructive to our campus community. While social media can certainly bring about positive change, it can also be a place that deeply hurts and harms others."
Kopper's antennae was up following an unrelated racially-charged incident and complaints from some of the school's black students. In her initial letter, she announced the formation of a faculty group for the purpose of meeting with students to work towards an "action plan" for combatting racism on campus.
"Some of our multicultural and nontraditional students feel the environment on campus is not welcoming to all," Kopper also wrote. "Over and over, the students in attendance expressed their need to be heard and for campus to do more than just talk."
But in an interview with Madison-based TV station WISC last week, Kopper said the unidentified students in the Snapchat photo were just posting a selfie after getting facials and did not mean any harm.
The overreaction to the Snapchat shot may have been prompted by prior incidents, including one in which two students used racial slurs in a Snapchat video.
"Young ladies using Snapchat to say the n-word multiple times mockingly or you have someone who still has not been identified write the n-word on a Black student's page," UW-Whitewater Black Student Union President Radaya Ellis said to WISC.
A group of students met on Friday with the schools Vice Chancellor of Student Affairs Tom Rios, told Fox6Now,"There's nothing that states it's illegal or against the law to make a racist video and post it out there.
"They may be distasteful, they may be things we don't want happening in our community but we also have to attend to the first amendment rights of people."
Some of the students still took issue with the facial picture and while no disciplinary action was taken, the students involved voluntarily met with the Black Student Union and record an apology.
"They tried to handle it at the peer-to-peer level and that's part of what we want," Rios said.