Ex-leaders of Bandidos biker gang, involved in 2015 Waco shootout, convicted of federal charges
NEWYou can now listen to Fox News articles!
A Texas jury reportedly convicted two former top Bandidos biker gang members on Thursday of racketeering charges leveled against them.
Jeffrey Fay Pike, the national president of the gang for roughly 10 years before his January 2016 arrest, was found guilty in federal court, along with John Xavier Portillo, who was the gang's vice president, The Associated Press reported.
The charges against the pair alleged that they committed several murders and attempted murders, as well as other criminal acts. Pike was also charged with conspiracy to commit assault with a dangerous weapon. Pike, 62, and Portillo, 58, will face sentencing on separate dates in the fall. Both remain in custody until sentencing and could face life in federal prison.
MURDER CHARGES FILED IN 2015 TEXAS BIKER SHOOTOUT
The 2006 slaying of Anthony Benesh sparked the federal investigation into the gang leaders. Before his death, Benesh was working to start a Texas chapter of a gang rival, the Hell's Angels Outlaw Motorcycle Organization, according to documents obtained by The Associated Press.
During the federal trial, it was revealed that Portillo, with Pike's approval, waged "war" between the Bandidos and a rival gang, the Cossacks.
Portillo's declaration of "war" ultimately led to a series of violent encounters around the state.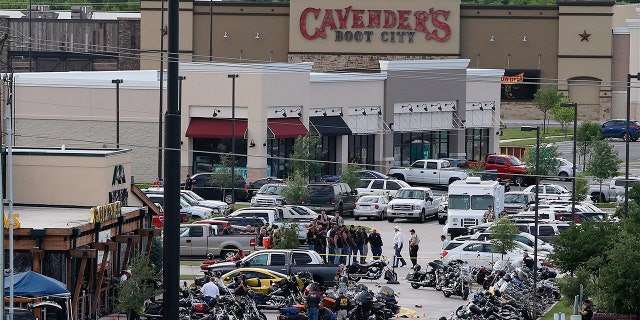 The gangs were both involved in a deadly 2015 shooting at a restaurant in Waco, Texas that killed nine people and injured 20 others.
TEXAS PROSECUTORS DROP DOZENS MORE CASES FROM WACO SHOOTING
Just days before the statute of limitations expired, McLennan County prosecutors on Wednesday indicted three bikers on murder charges stemming from the shooting. More than 20 other bikers were re-indicted on new charges, ranging from rioting to tampering with evidence.
Jurors also found that Portillo participated in the 2002 killing of Robert Lara to avenge the slaying of a Bandidos member. They also found that Portillo and other Bandidos trafficked in methamphetamine and cocaine under the arrangement with the Texas Mexican Mafia.
Fox News' Travis Fedschun and The Associated Press contributed to this report.