Erica Garner, daughter of NYPD chokehold victim, dies after suffering heart attack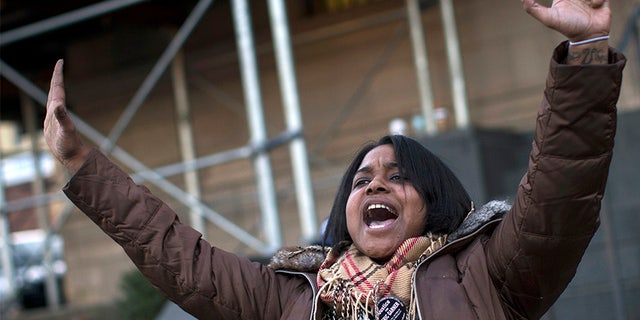 The 27-year-old activist daughter of New York City police chokehold victim Eric Garner died Saturday after suffering a massive heart attack a week ago that left her in a coma.
Erica Garner died at the Brooklyn hospital where she was born and her death was announced on her official Twitter account by her mother and friends.
"Her heart was bigger than the world," one tweet said in part.
A follow up tweet read, "Out of respect to Erica please do not request a comment if the journalist is not Black."
She became a political activist following her father's death in 2014 after he was placed in a chokehold as cops were arresting him for selling loose cigarettes on a Staten Island street.
His death was recorded on video and his last words "I can't breathe," became a rallying cry at rallies in New York and other cities to protest police brutality targeting blacks and other minorities.
The officer who restrained him was not charged by a grand jury which investigated the death. New York City agreed to pay $5.9 million to Garner's family.
"She has passed," Rev. Al Sharpton said in confirming her death, the New York Post reported. "Her heart was broken when she didn't get justice. … The [heart] attack just dealt with the pieces that were left."
The paper quoted her mother Esaw Garner as saying that her daughter was a warrior and a fighter who fought till the end.
"From the day she was born she was a fighter," she said. "We're gonna stay strong as a family and gonna take care of her child and make sure her children know how much she loved them."
Erica Garner's activism led her to campaign for Sen. Bernie Sanders, I-Vt., during the 2016 presidential election. She appeared in one of his campaign ads.
On Saturday, Sanders called her an "expceptional young woman."
"Erica Garner was an exceptional young woman. She was a loving daughter, sister, mother, friend. Jane and I send our deepest condolences to the entire Garner family and to all those she has impacted," Sanders wrote in a three-part tweet.
"Though Erica didn't ask to be an activist, she responded to the personal tragedy of seeing her father die while being arrested in New York City by becoming a leading proponent for criminal justice reform and for an end to police brutality," he continued. "I had the honor of getting to know Erica and I was inspired by the commitment she made working towards a more just world for her children and future generations. She was a fighter for justice and will not be forgotten."
Erica Garner had been in a coma since Dec. 23 after suffering a heart attack brought on by an asthma attack. She suffered a previous heart attack in August not long after giving birth to a baby boy in August. She named the boy after her father.
Click to read more from the New York Post.