Ebola at sea? US Coast Guard began monitoring threat in summer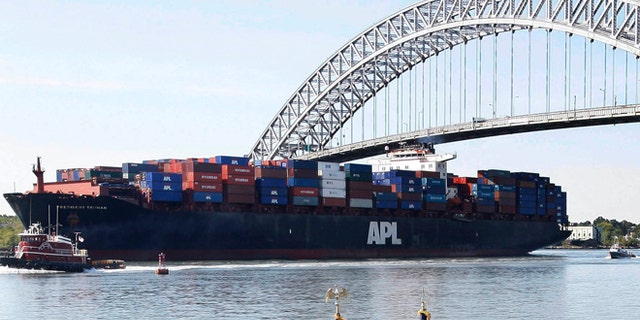 NEWYou can now listen to Fox News articles!
Ebola at sea is a frightening prospect, and one the U.S. Coast Guard began considering as early as August, long before the federal government proposed new airport screening measures.
An Aug. 7 Coast Guard bulletin obtained by FoxNews.com warned the maritime industry to be on the lookout for sailors from West African nations who showed signs of being infected with the deadly virus. And although there have been no known cases of crew members aboard the thriving ocean trade from the region having Ebola, protocols for dealing with it aboard ships and at ports have been put in place.
The August bulletin, entitled "Ebola Virus Precautions," advised ship owners and operators and others in the maritime industry that:
Ship representatives are required to report sick or dead crew and passengers within the last 15 days to the CDC.
Vessel masters must inform any boarding teams from the Coast Guard of any ill crew members on board.
The Coast Guard will review notice of arrivals for ships to determine if they visited an Ebola-stricken country within the last five ports of call.
All maritime workers should have a vessel quarantine plan in place should it be needed.
These efforts were re-emphasized Wednesday in a Maritime Security Bulletin released from the USCG's Captain of the Long Island Sound port zone—a regional maritime area that includes the East River in New York City. In the notice addressed to "All Stakeholders of the Maritime Domain," Capt. Edward Cubanski urged industry members to keep an eye out for warning signs and to report anything they find in a timely manner.
After an airline passenger from Liberia was diagnosed and later died in Texas this week, Ebola fears have risen for those traveling by air and sea.
"The case in Dallas reminds everyone that all parties involved must remain always vigilant of the EVD (Ebola Virus Disease) threat to the nation," Jeffrey Milstein, director of operations for Moran Office of Maritime and Port Security, a private firm, told FoxNews.com. "I would think the threat of Ebola would be a concern at any potential point of entry."
Coast Guard officials say no cases or incidents have yet been reported.
"There is no specific threat within the maritime realm at this time," Chad Saylor, spokesman for the Coast Guard said in a statement to FoxNews.com. "The heightened level of awareness is based on the whole-of-government effort to prepare for and prevent potential Ebola scenarios.
"The Coast Guard is working daily with CDC, CBP, and other federal, state and local port partners to ensure the safe and secure arrival of passengers and crews into U.S. ports," he added.
Taking extra precautions this week, the Coast Guard has formed an "Ebola Crisis Action Team" operating out of their headquarters and tasked to conduct a review of current policy.
Milstein said there are already enough fail safes put in place that would make it unlikely that there would be any case of Ebola discovered at any of the ports.
"The USCG reviews all electronic notice of arrivals in order to determine if a vessel has visited a country impacted by the Ebola virus outbreak within its last five ports of call," Millstein said. "If USCG determines that one of the last five foreign ports of call is one that is impacted by Ebola, then the vessel will be required to answer several questions regarding the health of the crew and potential contact they may have had while in a given infected region."
He added that it would be unlikely that anyone on land would be infected if a ship passenger or crew member was discovered to have Ebola.
"The Captain of the Port issues an order that will ultimately state that the vessel must be boarded and inspected prior to permission being granted for the vessels arrival inside the port."
U.S. ports are not alone in keeping an eye out for warning signs. Brazil and Argentina have tightened their port entry procedures for ships originating from West Africa.
Santos, a top commodities port in Brazil, took precautions one step further and said that ships from the affected countries like Liberia or Sierra Leone must wait for 10 full days before docking and only if there are no health problems among their crew.