Driver in NYC plows car into pedestrians, killing 1, injuring several others after parking dispute, police say
A driver allegedly fought over a parking spot early Sunday morning before stabbing two people and plowing his car into a group of onlookers outside a hookah bar, killing one person and injuring five others, police said.
Police officers responded after being notified of an assault outside a hookah bar in the Richmond Hill section of Queens about 4:30 a.m. Police said two people got into a fight when a man got out of his car and stabbed two people, police said.
The driver then got back into his white Hyundai sedan and plowed into six people outside the bar.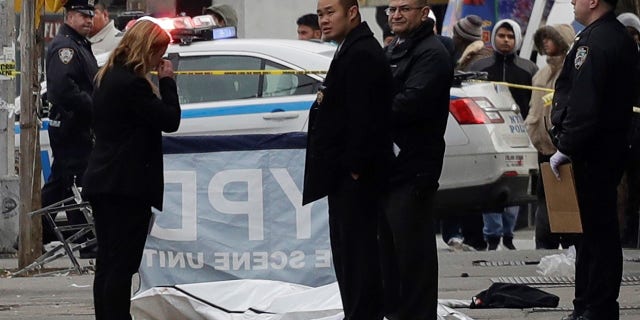 Police said a preliminary investigation showed the incident appeared to be a result of a parking dispute. A New York City detective said the incident wasn't terror-related.
NYPD Assistant Chief David Barrea said at a news conference police believe they have the driver in custody.
Ozzie Rogers, who witnessed the incident, told the New York Daily News that he saw the vehicle go at least 50 mph on the sidewalk.
"The bodies went flying. The car was going really fast, at least 50 mph on the sidewalk," Rogers said, adding that he believed the driver was "going after someone" and witnessed a girl holding a man back.
"The girl is yelling 'Stop, stop. No, no,' when this car just comes from nowhere and hits the whole group," Rogers told the paper.
One person, believed to be a passenger in the car, was taken into custody shortly after the incident.
The stabbing victims were in stable condition. Five of the people who were struck by the car was taken to the hospital. One of the injured was in critical condition. The others were in stable condition.
Sunday's incident comes after Sayfullo Saipov careened into a crowd of pedestrians in Lower Manhattan on Halloween, killing eight people in what police said was a terror-related attack. He pleaded not guilty last week to terrorism charges.
The Associated Press contributed to this report.