Dog rescued from Virginia house fire in dramatic video
A police officer in Virginia jumped into action Sunday to help save a couple's dog after their home caught fire -- and the dramatic rescue was captured by a bodycamera.
In footage released by Buena Vista Police, Officer Jacob Moore can be seen going into the smoke-filled home about 40 miles northwest of Lynchburg searching for the dog, Zoey.
One of the resident's at the home, Lovie Atkinson, had already been led out of the house by Moore and his partner, Lt. Rand Chittum, while the carport was engulfed in flames.
"She's hollering for someone named Zoey," Moore told WDBJ "So I thought it was a kid. And I was like: Who's Zoey? Who else is in the house? And she says: 'My husband's downstairs and my dog is in there.'"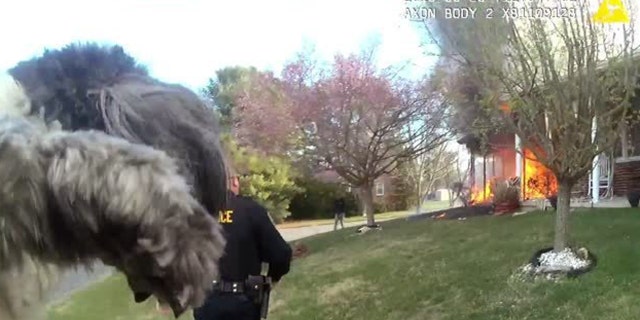 The officer then went back in to search for the dog, as shown in the video, with flames spreading in the background.
'ROGUE WAVES' PROMPT DRAMATIC RESCUE AFTER FISHING BOAT WITH 8 ABOARD SINKS IN HAWAII
"The smoke was so heavy I got down on the floor at one point and started beating the floor, screaming for the dog," Moore told WDBJ. "I hit the wall, so the dog started barking."
Zoey then can be seen jumping into the officer's arms before they are able to get out of the house. Firefighters arrived at the scene and were eventually able to douse the flames.
A GoFundMe fundraising campaign has since been created to support the Atkinsons, who had "almost everything in their home" destroyed.