Delta Airlines flight from Boston lands in Denver after hail damage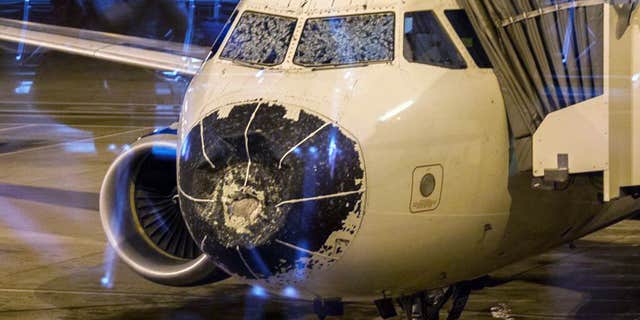 The Federal Aviation Administration said a Delta Airlines flight from Boston made an emergency landing in Denver after a hail storm damaged the plane.
FAA spokesman Ian McGregor told The Denver Post that the plane landed safely at Denver International Airport at 8:42 p.m. on Friday. The flight's destination was Salt Lake City International Airport.
"I fly constantly and this was the scariest 10 minutes of my life," Robin Jones, a passenger, told Fox 13 after arriving at the Salt Lake airport early Saturday morning. "I thought, 'OK. Have I told everybody that I love that I love them?' And as soon as I realized I had done that, I was like, 'I'm alright. Everything's going to be OK.'"
Delta flight 1889 made the emergency landing after getting caught in the lightning, rain and hail. Photos showed the plane's damaged nose and windshield.
Rob Wessman, another passenger on board the flight, assessed the damage of the plane to the Fox affiliate.
"We went around the corner from the window, we could see the shattered windshield," Wessman said. "We could see kind of a hole over the engine where lightning had struck. We could see the nose of the plane was missing. It was really intense."
The FAA will investigate the incident.
The Denver Post reported that passengers were flown to Salt Lake City on another plane, according to Liz Savadelis, a Delta spokeswoman.
Click for more from The Denver Post.
The Associated Press contributed to this report.