Deadly Times Square crash: Suspect pleads not guilty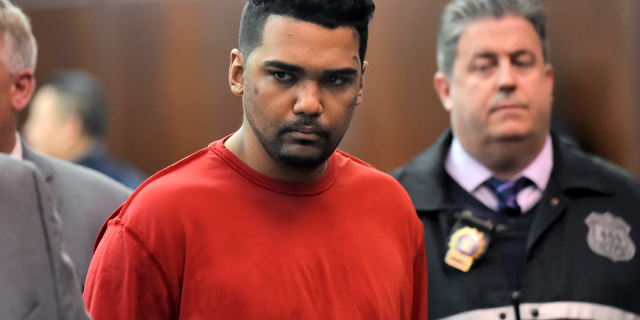 NEWYou can now listen to Fox News articles!
A man accused of intentionally plowing his vehicle into a crowded Times Square sidewalk pleaded not guilty Thursday to murder and attempted murder charges.
Richard Rojas, 26, was arraigned in the May 18 deadly crash that killed one woman and injured 22 others. He was charged with murder, 20 counts of attempted murder and five counts of aggravated vehicular homicide. His lawyer had no comment after the court appearance.
A survivor's mother sat in the courtroom on Thursday, weeping during the arraingment.
Rojas told police he'd been smoking marijuana laced with the hallucinogen PCP when he sped his car down three blocks in Times Square, targeting one of the busiest sidewalks in the popular New York City tourist site until he crashed into steel security barriers. He had tested negative for alcohol after his arrest.
Alyssa Elsman, 18, was killed in the crash. Her teenage sister was among the people injured that day.
Prosecutors said in May that Rojas told police he wanted to "kill them all" and that officers should have shot him. He also told them he was hearing voices.
Rojas had served in the U.S. Navy, but was discharged after disciplinary problems, military officials said.
Rojas has several prior criminal cases. He pleaded guilty shortly before the Times Square crash to harassment in the Bronx after he was accused of pulling a knife on someone.
The Associated Press contributed to this report.