'Dark Knight Returns' No. 2 cover to be auctioned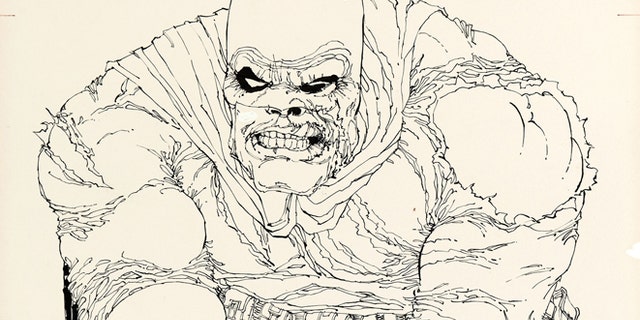 It is the comic book cover that captured the grim visage of an older, wiser -- and meaner -- Batman.
Now, the 1986 pen and ink creation -- drawn by writer/artist Frank Miller -- that is the cover to "The Dark Knight Returns" No. 2 will be sold next month in Dallas by Heritage Auctions.
It's the first cover from DC Comics' 1986 four-issue "Dark Knight" miniseries to be sold and is expected to go for more than $500,000.
Miller's story "radically altered the direction of comics," said Todd Hignite, Heritage's vice president.
"For fans of modern comics, this drawing is where everything really begins," he said. "This moment defines Miller's Dark Knight, and the modern day perception of Batman, like no other drawing."
The only cover Hignite says might come close is the next in the series -- with Batman and Robin -- that was auctioned two years ago for nearly $450,000.
"It represents not only one of the most memorable images from the 1980s, but from Batman's entire illustrious history," said Hignite. "Miller's revolutionary Dark Knight radically altered the direction of comics with its prestige mini-series format, combined with the fact that it was one of the first modern mainstream features to put a gritty noir patina on the squeaky-clean Silver Age hero mythos previously exemplified by DC."
Also up for sale is a 9.2-graded copy of "Batman" No. 1 from 1940, that shows Batman and Robin swinging in front of a Gotham city skyline. It's being auctioned on behalf of Tadano America Corp. A similar copy sold for $850,000 in 2012.
"By any measure this is one of the most desirable comic books in existence," said Barry Sandoval, director of operations for comics and comic art category at Heritage. "There are just a few comics ahead of this on the ultimate comics list, but it's close when you see just how fantastic the shape of this book is."
The record price for a comic book remains "Action Comics" No. 1, which sold for $2.16 million in 2011. That featured Superman's first appearance.