Damage to crashed New Jersey Transit train hampering investigation, feds say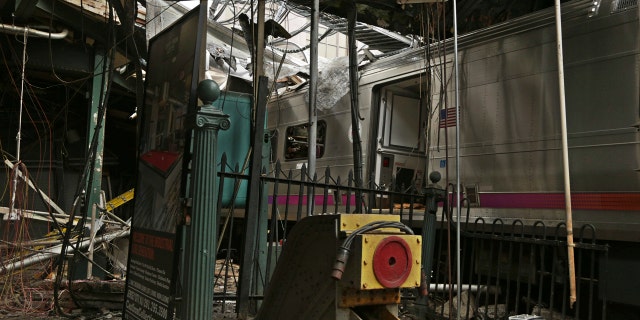 HOBOKEN, N.J. – Heavy damage to the front of a commuter train that slammed into a station last month, killing a woman and injuring 100 other people, is hampering the investigation into what went wrong.
The National Transportation Safety Board said in a preliminary report Thursday that it has scheduled additional testing after finding that the electronics controlling the train's brakes and propulsion system were destroyed in the Sept. 29 crash at Hoboken Terminal. Investigators say other tests showed the train's air brake system working as designed.
The New Jersey Transit train's data recorder showed it speeding up and going 21 mph, more than twice the 10 mph speed limit, just before it crashed. The train's engineer hit the emergency brake less than a second before impact.
The engineer, Thomas Gallagher, told investigators that he felt fully rested when reporting to work at 6:46 a.m. that day. He said that he conducted the required brake tests before leaving Spring Valley, New York, and that the train operated normally.
He told investigators that the train was going 10 mph when it entered the terminal track but that his next memory is waking up on the floor of the cab after the accident. He said he has no memory of the accident.
Separately, the train's conductor said that he didn't notice anything unusual about the speed of the train approaching the terminal. He said that he had been focused on crowds of passengers on a train that was too crowded to collect fares. There were only four cars on the train, when there are usually five.
A full investigation to determine the cause of the crash could take more than a year.
Meanwhile, state lawmakers are seeking subpoena power to investigate NJ Transit's safety and financial practices after the crash. Democratic Assembly Speaker Vincent Prieto said Thursday lawmakers will consider a resolution granting the Judiciary Committee power to issue subpoenas to require hearing attendance.
Prieto's announcement comes after an Associated Press report found NJ Transit had more accidents and paid more in fines for safety violations than any other commuter railroad in the country over the past five years. Prieto said the public deserves a thorough investigation.
NJ Transit officials declined to comment for the AP report, citing the ongoing investigation into the Hoboken crash. In the past, they've touted safety as their top priority.