'Crude and Offensive' Anti-Semitic Vodka Billboard Removed in New York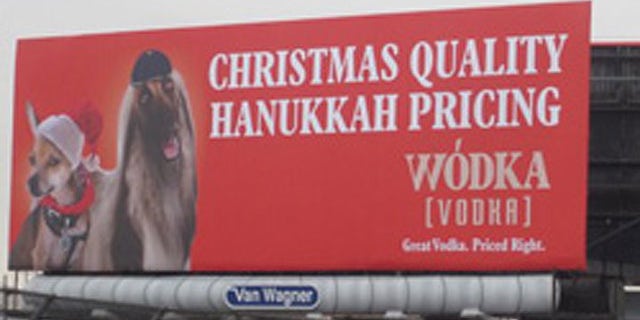 A billboard promoting a Polish brand of vodka was removed from a New York City street on Tuesday following claims that the "crude and offensive" message was anti-Semitic.
"Christmas quality, Hanukkah pricing," read the two-sided billboard promoting Wodka vodka near 130th Street on Manhattan's West Side Highway. It also depicted a long-haired dog wearing a yarmulke and another dog wearing a Santa hat.
Officials at the Anti-Defamation League quickly denounced the billboard, characterizing it as "clearly insensitive and inappropriate" in a statement released by Ron Meier, the group's New York regional director.
"In a crude and offensive way of trying to make a point that their vodka is high quality and inexpensive, the billboards evoke a Jewish holiday to imply something that is cheap and of lesser value when compared to the higher value of a Christian holiday," Meier said. "Particularly with the long history of anti-Semitic stereotypes about Jews and money, with the age-old notion that Jews are cheap, to use the Jewish holiday in dealing with issues of money is clearly insensitive and inappropriate."
Meier said the billboard generated a barrage of complaints to ADL officials in recent days.
In response, the vodka company announced on its Twitter feed on Tuesday that it will discontinue the advertisements. The Twitter account now contains the phrase 'Movie Star Quality, Reality Star Pricing,' a tweak to the aforementioned billboard.
"Although rarely serious, we apologize to anyone we may have offended through our holiday campaign and are removing our billboard immediately," the posting read.
Messages seeking additional comment from Wodka were not immediately returned on Wednesday.
Brian Gordon, president of MMG, the Miami-based marketing company that designed the campaign, said it was never intended to shock anyone. He said the phrase "Hanukkah pricing" was intended to imply value.
"It's real simple: When we talk about Hanukkah pricing, we talk about value," Gordon told FoxNews.com. "Christmas is one night, Hanukkah is eight nights ... It's eight for one."
Gordon said the vodka company -- a "brand for everybody" -- has no interest in offending potential customers.
Gordon said the company's previous marketing campaigns have been "quirky, offbeat and a little bit different," adding that he felt the billboard in question fit that description.
Gordon, who said he was Jewish, said the intent of the campaign was to be a "continuation" of that marketing mantra.
"This wasn't an attempt to shock people," he said. "For us, the brand is understated and doesn't rely on fancy packaging or marketing ... We don't take ourselves too seriously."
Todd Gutnick, an ADL spokesman, declined to comment on Gordon's explanation of the phrase "Hanukkah pricing."
"Our concern was the people understood the ad," Gutnick told FoxNews.com. "They may not have intended for it to be offensive, but many, many people saw it differently. Therefore, we're glad they did the right thing and removed the billboard. Regardless of what they meant to say, the fact is a lot of people found it to be offensive."