Georgetown professor suspended by Twitter after call for 'deaths' of GOP senators, Kavanaugh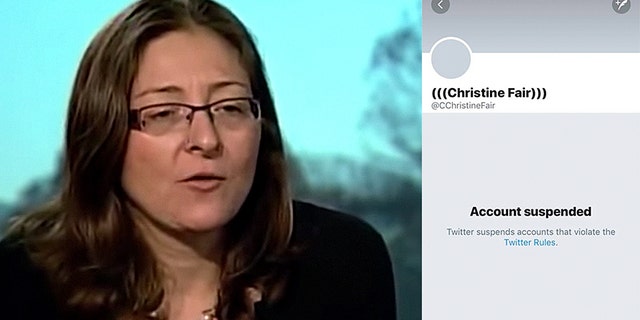 The anti-Trump Georgetown University professor who tweeted about castrating senators who support Supreme Court nominee Brett Kavanaugh was suspended from Twitter on Tuesday.
Carol Christine Fair's account is no longer verified and was suspended for violating Twitter's rules after she tweeted white Republican senators, specifically Sen. Lindsey Graham, R-S.C., who defended Kavanaugh in a fiery speech, should endure a miserable death. Twitter forbids its users from making specific threats of violence "or wish for the serious physical harm, death, or disease of an individual or group of people."
"Look at [this] chorus of entitled white men justifying a serial rapist's arrogated entitlement," she wrote. "All of them deserve miserable deaths while feminists laugh as they take their last gasps. Bonus: we castrate their corpses and feed them to swine? Yes."
Fair is a provost's distinguished associate professor in the Security Studies Program at Georgetown.
The Catholic university said Fair's tweet represented her own personal views.
GEORGETOWN PROFESSOR SAYS WHITE GOP SENATORS 'DESERVE MISERABLE DEATHS' AFTER KAVANAUGH HEARING
Georgetown spokesperson, Matt Hill, told Fox News Fair's tweets do not represent the views of the university and while "difficult, controversial, or objectionable," they expect faculty members to be "free of bias and geared toward thoughtful, respectful dialogue" in the classroom.
"Georgetown urges members of our community to engage in robust, but respectful dialogue," Hill said. "While we protect speech and expression, we condemn uncivil and disrespectful discourse that is inconsistent with our values."
Fair's Twitter account was briefly reinstated on Tuesday before it went dark again. When she was briefly allowed back on Twitter, she tried to clarify her statement.
"I do NOT and NEVER have condoned violence," Fair wrote. "My tweet, as I have explained, was an attempt to make YOU as UNCOMFORTABLE as I am using the language of the abuse I receive by the hundreds."
Days before, Fair went on a profanity-laced Twitter tirade against Kavanaugh, calling the embattled nominee a "rapist" and "perjurer." She described the GOP as a "f---ing death cult" and "filthy swine."
ANTI-TRUMP GEORGETOWN PROFESSOR GOES ON PROFANE TIRADE AGAINST KAVANAUGH, GOP
Fox News contributor Jason Chaffetz tweeted at Georgetown asking if they are going to fire Fair.
Pro-Trump blogger, Mike Cernovich, also called out the school for its inaction.
"Parents! If your child or a friend's child attends @Georgetown, PLEASE send this article to them," Cernovich tweeted. "Their lives could be in danger. This is violent stuff, and Georgetown refuses to [take] action to protect students."