Anti-Trump Georgetown professor goes on profane tirade against Kavanaugh, GOP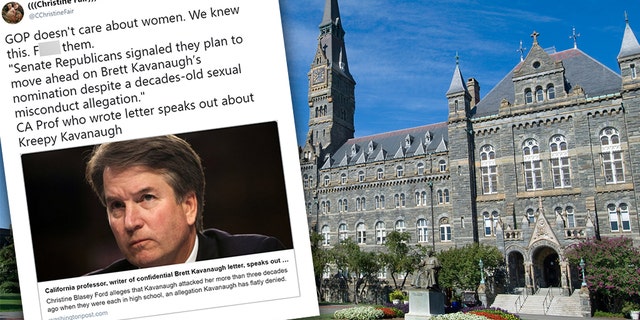 An anti-Trump professor at Georgetown University went on a profanity-laced Twitter rant against Supreme Court nominee Brett Kavanaugh, who has been accused of committing a sexual assault as a teen.
Dr. Carol Christine Fair is an associate professor in the Security Studies Program at Georgetown, according to the school's website.
Fair referred to "Kreepy Kavanaugh" as a "perjurer" and a "rapist" on her verified Twitter account, adding that "nothing has changed since Anita Hill."
Fair also said the "GOP doesn't care about women. We knew this. F--- them."
INCONSISTENCIES EMERGE IN KAVANAUGH ACCUSATIONS, WITH HEARING IN DOUBT
In another tweet about Kavanaugh, Fair referred to the GOP as "pro-rape, pro-pederasty, pro-perjury, pro-corruption, pro-Russian hacking, pro-child trafficking, pro-white male supremacy, pro-VERY-late-term abortion of children with AR-15's … a f---ing death cult" and "filthy swine."
Fair told Fox News late Thursday that the tweets came from her personal account. "I do not follow my students' social media feeds and I do not ask them their opinions about contemporary politics in class."
She added: "I devote a considerable amount of time helping my students get jobs even when they explain to me that their political leanings differ from my own. I maintain a healthy set of contacts of all political persuasions on LinkedIn for the exclusive use of my students. I do not ask my students about their politics before helping them with their job search."
Describing her teaching methods, she said: "My exams are empirical and fact-based. There are appeals processes should a student feel aggrieved in my assessments. I have been teaching since 2009 and I have never been accused of being unfair to students nor has any student challenged a grade."
"Professor Christine Fair should remember that she has Republican students in her classes," Amelia Irvine, a Georgetown student who is co-president of Network of Enlightened Women and president of Love Saxa, told Campus Reform. "Is she accusing them of hating women as well? I think Fair would be hard pressed to call herself unbiased in the classroom when she's spewing hate like an immature teenager online."
GEORGETOWN STUDENT GROUP TARGETED AS 'HATE GROUP' FOR CATHOLIC BELIEFS, COULD BE SANCTIONED
"F--- Trump and f--- you for voting for him," Fair wrote on Tumblr. "What AMAZES me about Trumpanzees … apart from the fact that they are a bunch of Xphobic, women-hating, white supremacist, whiney-ass snowflakes who love a criminal traitor …"
TEXAS BIOLOGY TEACHER ON LEAVE FOR ALLEGEDLY BULLYING PRO-TRUMP STUDENT
On Tumblr, Fair has also dubbed MAGA hats "socially-acceptable Klan hoods that say 'I heart White-Male-Christian Supremacy.'"
A Georgetown spokesperson told Fox News in a statement that Fair's private views do not reflect the views of the university.
MICHIGAN PROFESSOR SLAMMED AFTER REFUSING TO WRITE LETTER OF RECOMMENDATION FOR STUDENT APPLYING TO STUDY IN ISRAEL
"While Georgetown is committed to free speech and expression, we do not approve or endorse every statement made by our faculty members," the statement read.