Controversial 'Jesus Ants' Art Goes Marching Again -- on Bicoastal Tour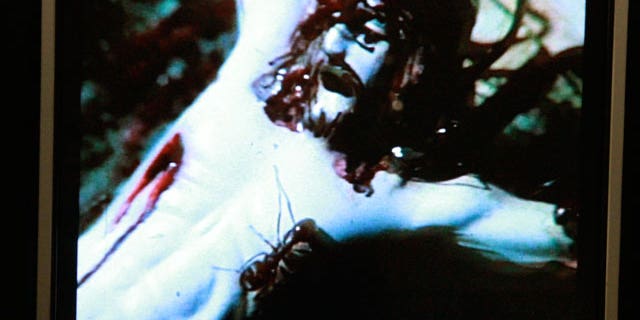 A controversial exhibit that was quickly pulled from the Smithsonian's National Portrait Gallery last year is back – and this time it's hitting the road on a bicoastal tour.
"Hide and Seek: Difference and Desire in American Portraiture," will open at the Brooklyn Museum in New York this November, and will include the controversial video clip of an ant-covered crucifixion scene that led to the exhibit being yanked from the Smithsonian. The exhibit will then travel to Tacoma, Wash., next March, where it can be viewed through summer of 2012 as part of a larger show.
The seven-minute crucifix video -- "Fire in My Belly"-- by artist David Wojnarowicz, features an 11-second clip depicting a picture of ants crawling over a crucified Jesus. It was removed from the National Portrait Gallery less than 24 hours after members of Congress and the public objected, renewing a debate over taxpayer funding of controversial art projects.
The new exhibit will contain 90 of the original works, including the controversial video clip. Leaving the clip "was never a question," according to Lisa McKeown, communications coordinator for the Tacoma Art Museum.
"Part of the importance of this exhibition for us is showing this in its entirety as it was meant to be shown."
The Smithsonian is loaning nine pieces of the exhibit to the Brooklyn Museum which, like the Tacoma Art Museum, receives public funding but is not using tax dollars to directly cover the costs of the exhibit.
"This is an important chapter in the history of American art…and there are no city, state, or federal funds being used to present this exhibit," said Brooklyn Museum representative Adam Husted.
McKeown also defended Tacoma's decision to take on the exhibit.
"We feel as a museum that museums are here to inspire curiosity, discovery, and understanding about the art and artists who make it," she said.
"Not everyone is going to love everything, and that's okay. That's not why we do what we do."
"If these museums can actually convince the public that they have funded every part with private dollars, then that's fine," Leslie Paige, vice president of policy and communications at Citizens Against Government Waste, told FoxNews.com. "But if any public funding is involved it complicates art."
In the months since the controversial video was pulled, "Fire in My Belly" and "Hide and Seek," in general, has come to symbolize the fight over censorship, said anti-censorship activist Mike Blasenstein.
"They folded immediately without trying to refute any charges," Blasenstein told FoxNews.com."Not one complaint came from any one person who viewed the exhibit."
After the National Portrait Gallery pulled the video last November, Blasenstein and Michael Dax Iacovone founded the Museum of Censored Art in a trailer in front of the gallery, where they showed the film along with other exhibits concerning the controversy about the film.
Last month Blasenstein and Iacovone received the Immroth Award, which honors someone who works to fight censorship, presented by the American Library Association for providing access to the banned "Fire in My Belly" video.
"You make a deal with the devil when you put art in a publicly funded museum," said Paige. "It's not censorship if it has to be removed."
"If given the choice between a country where things are hidden from people, or a country where people get to see things and make up their own mind, I'd rather have the latter," said Blasenstein.
But Rep. Jack Kingston (R - GA) who at the time called for a congressional investigation into the incident, said that the Smithsonian's decision at the time was appropriate.
"This crowd believes showing nude pictures and weird, peculiar art, to put it politely, is an appropriate expenditure of tax dollars" Rep. Jack Kingston (R-Ga.) told FoxNews.com. "If they don't have that kind of sense or responsibility of being stewards of tax dollars, then they ought to get the hell out of there."
"If that's what they want and they're paying for it with their own nickel, fine. But it should not be a federal expenditure," said Kingston.