Conn. business marks anniversary of deadly rampage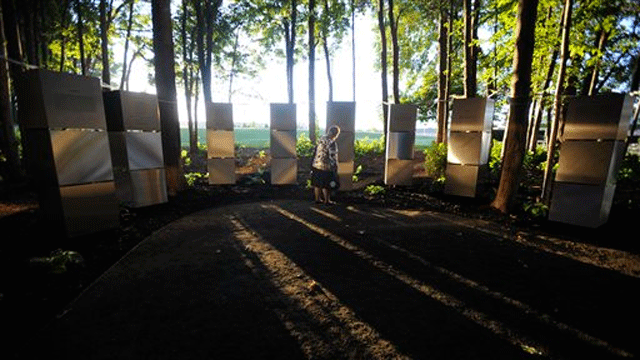 MANCHESTER, Conn. – Hundreds of relatives, friends and colleagues of eight workers who were killed at a beer distributor marked the anniversary of the shootings by dedicating a small park with eight memorials outside the warehouse.
"We took a sucker punch to our very soul and it knocked us to our knees," said Jerome Rosenstein, who was wounded in the Aug. 3, 2010, attack at Hartford Distributors Inc. in Manchester. "We may have been bent, but we were never broken. We walked back into our office, into our warehouse, climbed into our trucks and slowly started doing what we at HDI do better than anybody and that's sell and deliver beer."
Omar Thornton, a driver for Hartford Distributors, had just been fired for stealing beer when he killed the eight men and wounded two others in what authorities labeled the worst mass shooting in Connecticut's history.
After the shootings but before killing himself, Thornton called 911 and told an operator he was the victim of racism. Police conducted a nine-month investigation that found no evidence to back his claim.
Hartford Distributors chief executive Ross Hollander said he will never understand what motivated the killing spree.
"We all cried many tears since this horrible event of that date," he said. "Like every one of you, I ask why?"
The new memorials, eight stainless steel pillars etched with the names and brief biographical descriptions of the slain men, are in a small, wooded area just beyond the parking lot outside the warehouse. Eight young birch trees stand at the entrance to the park.
"The park will be a serene setting, always here for those times when we need a moment of peace," Hollander said.
A Connecticut-based guide dog school brought dogs to Wednesday's ceremony. The animals had come to the warehouse as puppies to help workers cope in the aftermath of the shootings.
"Puppies bring smiles to faces," said Eliot D. Russman, chief executive of Fidelco Guide Dog Foundation in Bloomfield. "These were pretty shell-shocked people last year."
Family members also released eight white doves — homing pigeons, actually, according to their owner, Dave Freytag of Freytag Flights — that were expected to head home quickly to Canton, more than 20 miles from Manchester, he said.
Hartford Distributors has boosted security in the past year, adding cameras and glass dividers, Hollander said after the ceremony.
"We're more fenced in," he said.
Jane Hoffman, a sister of Douglas Scruton, one of the eight workers who was fatally shot, traveled from her home in Madison, N.H., to Connecticut for a private, families-only first viewing of the memorials on Sunday. She said she still can't talk about the day she heard about the shootings.
"It's very fresh in my mind and very painful," she said.
The ceremony "reinforced whenever there's a tragedy, people come out of the woodwork and support each other," she said.