Confederate flag sales surge after Charlottesville violence
Business is once again booming for the rebel flag.
The owner of Alabama Flag & Banner, likely the last remaining U.S. retailer to sell the Confederate flag, said that sales surged after the violent protests two weeks ago in Charlottesville.
"Everybody's got a different reason [for buying Confederate flags]," store owner Belinda Kennedy told AL.com. "By and large, I think people are afraid they may not be able to get it one day."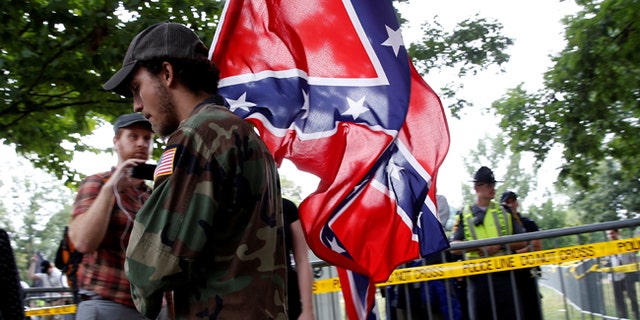 American flag makers stopped producing Confederate flags two years ago after a surge in orders following white supremacist Dylann Roof's rampage at the Emanuel AME Church in Charleston, South Carolina, that resulted in the death of nine black churchgoers.
SIX FLAGS OVER TEXAS REMOVES CONFEDERATE FLAG, REVERSING EARLIER DECISION
Walmart and Amazon stopped selling Confederate flags shortly thereafter, as well.
Kennedy's shop became the go-to manufacturer for hundreds of smaller U.S. retailers. The store's online orders also boomed.
"When you've got people like the Ku Klux Klan and these neo-Nazi groups, the white supremacists, when they hijack the flag, that should be a crime because that's not what the flag is about." Kennedy told WGN9. "But that's what makes people so vehemently, adamantly opposed to the flag."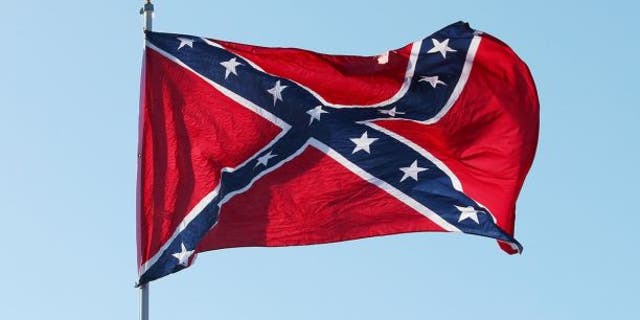 SOUTH CAROLINA JUDGE DISMISSES CASE TO KEEP CONFEDERATE FLAG IN COURTROOM
Depending on the amount of labor involved, Kennedy sells her Confederate flags for anywhere from $38.50 to $200.
Although Kennedy does not see herself as a crusader for the Confederate cause, she told AL.com that she does not accept that the flag, or monuments, are anything more than a symbol of heritage or history.
"When we start trying to rewrite our history, we are forgetting our history," she told AL.com. "Does anybody really think by taking down monuments and renaming mountains and taking down Confederate flags, that we are really going to see racism end? That's not going to fix it. That comes from inside of people."