Colorado cops arrest man with head tattoo who was sought in deadly shooting of woman he knew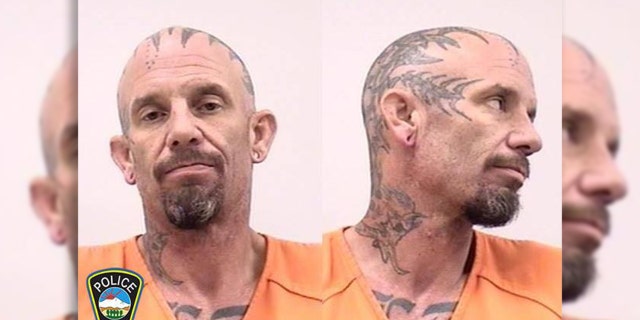 A Colorado man with a distinctive tattoo covering much of his bald head has been arrested after police said he was a person of interest in a deadly shooting.
Mark Peters, 46, was wanted in Friday's killing of a woman he knew, at a home in Colorado Springs, the Colorado Springs Gazette reported.
Police had appealed to the public for information on Peters' whereabouts, saying he may have been riding a Harley-Davidson motorcycle.
The paper reported Sunday that Peters was apprehended around midnight Friday on suspicion of stalking and violation of protection orders. He wasn't charged in connection with the homicide.
A man who said he was the woman's father told the paper his daughter was killed as the result of domestic violence.
"The mother, daughter and son made multiple calls to the police about someone sitting on a motorcycle near the house," the man said, according to the paper. "They (the police) didn't do their job."
The paper reported seeking reaction from a police spokesman who declined comment, citing the active investigation.