Cody Wilson, gun entrepreneur accused of sex with minor, left US for Taiwan, officials say
Cody Wilson, the owner of a company that makes untraceable 3D-printed guns who is wanted on an arrest warrant accusing him of sex with an underage girl, has left the U.S. and was last known to be in Taiwan, investigators in Texas said Wednesday.
Austin Police Cmdr. Troy Officer told reporters that the department was working with national and international law enforcement to locate Wilson, whom Officer said missed a scheduled return flight to the U.S.
Officer said it was unclear why Wilson went to Taiwan, but he added that a friend of the 16-year-old alleged victim told Wilson that he was under investigation before he left. The commander also said Wilson's name had been entered into a national law enforcement computer listing him as wanted for sexual assault of a child.
Investigators said Wilson met the girl for sex at an Austin hotel on Aug. 15 and paid her $500 afterward. A counselor for the teenager reported the accusation to Austin police a week later, saying Wilson met the girl online.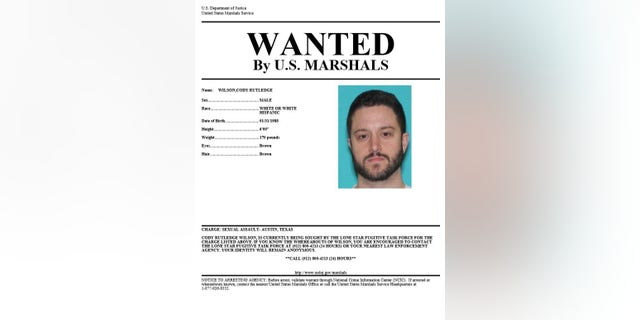 In an affidavit, Austin Police Detective Shaun Donovan wrote that surveillance footage showed Wilson and the girl getting out of an SUV at the hotel and then exiting an elevator together on the seventh floor, Donovan wrote. The footage showed them returning to the elevator later that night.
CODY WILSON ACCUSED OF SEX ASSAULT
Investigators said the SUV's license plate matched one of the vehicles registered to Wilson's business, Defense Distributed. Donovan wrote in his affidavit that hotel records showed that Wilson registered the same room -- number 718 -- as the room where the girl reported he had sex with her.
Officer told reporters that detectives believe "if someone mistakes [the alleged victim's] age it would be because they think she's younger, not older than the 16-year-old that she is."
WILSON SAYS HE'S SELLING 3D-PRINTED GUN PLANS DESPITE RULING
After a federal court barred Wilson from posting the printable gun blueprints online for free last month, he announced he had started selling them for any amount of money to U.S. customers through his website.
More than a dozen states sued to stop an agreement that the government reached with Defense Distributed, arguing that the blueprints for how to print plastic guns could be obtained by felons or terrorists.
Fox News' Lucia I. Suarez-Sang, Christopher Carbone and The Associated Press contributed to this report.