Clinton and Trump Score Major Victories; Cement Front-Runner Status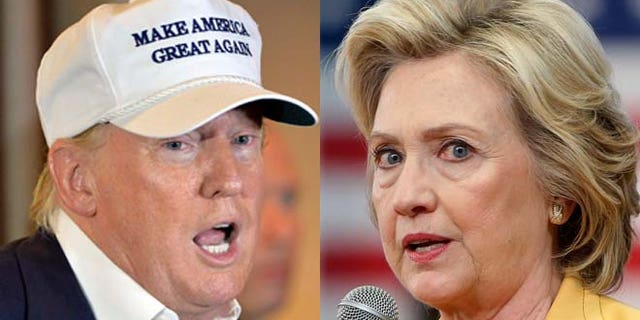 NEWYou can now listen to Fox News articles!
It was a very big night for the two front-runners in the race for the White House. Hillary Clinton and Donald Trump racking up major victories. Trump won five of five states and Hillary Clinton was 4 for 5. Trump won CT, DE, MD, PA and RI. Clinton won CT, DE, MD and PA. Sanders managed to win Rhode Island where Independents could vote in the open primary. Clinton now has 90% of the delegates she needs for the nomination. Donald Trump now has 77% of the delegates he needs.
Both Clinton and Trump appeared to pivot to hit each other as the likely nominees in their victory speeches.
Here's how the Washington Post reporters Abby Phillip, John Wagner, and Anne Gearan characterized the Clinton victories:
"Hillary Clinton all but secured the Democratic nomination Tuesday after a long and bruising primary fight against rival Sen. Bernie Sanders, scoring decisive victories in four of five East Coast states to cast ballots.
In the last big day of multiple contests before Democrats conclude their primary voting in June, Clinton won Pennsylvania, Maryland, Connecticut and Delaware, and Sanders won in tiny Rhode Island, the only state where independents could vote in the Democratic contest.
Overall, Sanders picked up a fraction of the delegates awarded to Clinton.
While not mathematically eliminated, the liberal senator from Vermont, whose outsider campaign captured a current of Democratic discontent, remains far behind and now faces nearly impossible odds as the nominating contest draws to a close.
Clinton all but declared victory over Sanders on Tuesday, turning her sights to the Democratic National Convention, to be held here in July, and a possible general election race against Republican Donald Trump."
And here's how the Washington Post reporters Philip Rucker and Jose A. DelReal reported on Trump's victory:
"Donald Trump rolled to crushing victories Tuesday in primaries across the Eastern Seaboard, substantially expanding the divisive mogul's delegate lead and narrowing the chances for his opponents to stop his march to the Republican presidential nomination.
Trump was projected to win all five of the states holding contests - Connecticut, Delaware, Maryland, Pennsylvania and Rhode Island - by decisive, double-digit margins.
Tuesday's rout was an embarrassing and potentially debilitating blow for Trump's nearest rival, Sen. Ted Cruz of Texas. Cruz finished a distant third in at least three of the states, behind Ohio Gov. John Kasich as well as Trump.
Now mathematically eliminated from winning the 1,237 delegates required to secure the nomination outright, Cruz and Kasich are banking on a contested party convention in Cleveland to somehow deny Trump the nomination."
Donald Trump is set to give a major foreign policy speech at Noon. We'll get analysis and reaction.
1200EDT -- Donald Trump makes foreign policy speech. The Mayflower Hotel, Washington, DC. LIVE
Ted Cruz will speak this morning in Indiana. There are reports today he may announce an endorsement or his VP pick.
0930EDT -- Sen Cruz makes a retail stop at Sister's Place Restaurant. Indianapolis, IN. LIVE via LiveU
Bernie Sanders is holding a town hall at Noon. He shows no sign of giving up before the last voting in June.
1200EDT -- Sen Sanders holds a town hall meeting. Purdue Univ, West Lafayette, IN. LIVE via LiveU
Former Speaker of the House Dennis Hastert expected to be sentenced in federal court today for sexually abusing boys for years.
The Supreme Court is expected to hear an appeal by former Virginia Governor Bob McDonnell convicted of public corruption.
We are watching major storms again today for the central part of the country. The worst of it expected north of Houston all the way up into Iowa. Yesterday there was a tornado that caused injuries in northern Texas. Hail and high winds felt in much of the Plains.
Comcast is in talks to buy DreamWorks Animation for more than $3 billion.
Some disappointing earnings reports after the close yesterday. Apple missed both earnings and revenue expectations.. the stock could fall dramatically at the open. It lost 7% in after-hours trade. Twitter also set to fall dramatically after it reported an erosion in advertising. Chipotle reported a 30% plunge in same store sales after several illness outbreaks tied to their food.
Nintendo reported a plunge in profits. Barclay's bank profits fell 5%. Mitsubishi has cancelled projects after it admitted cheating on emissions tests since 1991.
Today we get earnings reports before the bell from Comcast, Hilton, and Boeing. After the close reports from Facebook, Marriott and Paypal.
We're also waiting on a fed meeting that could give us an indication which way interest rates are headed.
The U.S. is warning Americans about "credible indications" that a terror attack could target tourist areas in Turkey.
One of the main suspects in the Paris terror attacks that killed 130 has been turned over to France. Salah Abdeslam was arrested in Belgium last month days after more terror attacks hit Brussels.
For more news, follow me on Twitter: @ClintPHenderson