Civil rights leaders to reenact historic Selma to Montgomery march
SELMA, Ala. – After a massive weekend rally in this small Alabama town to commemorate the 50th anniversary of "Bloody Sunday," a much smaller group is walking the route of civil rights pioneers in the 1965 voting rights march from Selma to Montgomery.
Several marches and celebrations are planned along the historic route, culminating with a rally at the state capitol in Montgomery on Friday. This morning, approximately 60 people marched across the Edmund Pettus Bridge.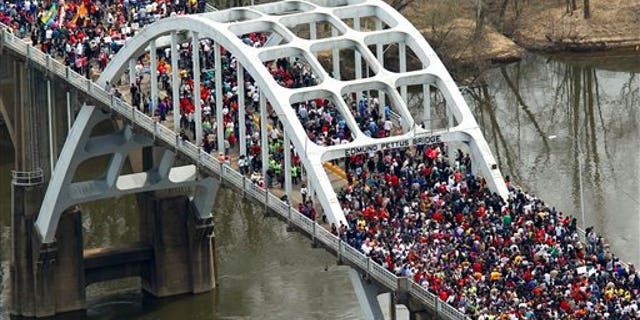 The now-iconic structure — named after a former Alabama Senator, Confederate general and Ku Klux Klan grand dragon — was the scene of a brutal police crackdown on civil rights demonstrators 50 years ago. The event, known as "Bloody Sunday," galvanized nationwide support for the protesters and led to additional marches — including the one that took demonstrators from Selma to the state capitol under national guard protection.
Lynda Blackmon Lowery turned 15 while making the 50-mile trek from Selma to Montgomery back in March 1965.
"How can you bring about change if you don't do nothing to help yourself?"
Having suffered police beatings and tear gas on the Pettus bridge two weeks before, Lowery said she panicked along the route and considered quitting the march. But she was comforted by a fellow marcher — a white military veteran who had lost a leg in combat and was walking on crutches.
"Jim Letherer said before he let anybody else harm another hair on my head, he would lay down and die for me," Lowery recalled. "And I said, 'I can't let him do more for me than I was willing to do for myself.'"
Lowery completed the march to Montgomery. And by the time she reached the state capitol, the ranks of demonstrators had increased to more than 25,000.
The events that unfolded in Alabama that year generated support for the passage of the Voting Rights Act of 1965, which established safeguards against the harassment and intimidation of minority voters.
In 2013, the Supreme Court eliminated a key provision of the Act, which required states with histories of discrimination to obtain "pre-clearance" from the Justice Department before changing voter laws.
Speaking at Selma's historic Brown Chapel A.M.E. Church Sunday, Attorney General Eric Holder said the high court's 2013 ruling was "profoundly flawed" and "dealt a serious blow to a cornerstone of American civil rights law."
His criticism was echoed by other civil rights leaders. But they also had strong words for Americans who don't bother to vote, a right for which so many had risked their lives.
"How can you bring about change if you don't do nothing to help yourself?" Lowery said. "You know you're gonna sit down and holler about it afterwards. But you don't get out there and vote."