Christmas-themed train strikes, kills 2 people on tracks in Massachusetts
A festive night out for hundreds of children on a holiday-themed train turned into a nightmare before Christmas after two people were struck and killed late Saturday, officials said.
The Plymouth County District Attorney's Office said Wareham police were notified at 7:29 p.m. about two people struck by the "Train to Christmas Town" that originated in Buzzards Bay.
The conductor on the train reportedly made attempts to stop and activated the emergency braking system before the collision took place. The victims were a 33-year-old female and 36-year-old male, both from Wareham, according to a preliminary investigation conducted by the DA's office.
There were 355 passengers on the train at the time, many of them children. Officials did not tell the children on board about the incident, but said the train had run out of "magic gas" and had to stop, Boston 25 reported.
Kaylene Jablecki, the manager of the Cape Cod Central Railroad which operates the train, told the Boston Herald the train was conducting a dress-rehearsal run and was carrying first responders and their families "as a way to give back for all they give to us."
FORMULA 3 DRIVER SOPHIA FLOERSCH SUFFERS SPINAL INJURY IN SCARY CRASH AT MACAU GRAND PRIX
Many of the first responders on board reportedly wanted to disembark to help but were advised by others responding to the scene to stay with their children. A Santa Claus impersonator then made his way through the train to dispense gifts and hear what children wanted on Christmas while the deadly incident was investigated outside.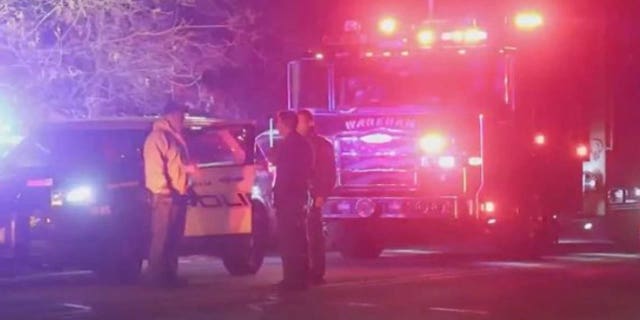 "It's a tragedy, and of course we feel terrible," Jablecki told the newspaper, "but it could have been mass chaos. Ultimately, I feel it was handled well."
Police said the incident doesn't appear to be suspicious and is being investigated by the Massachusetts State Police, the Massachusetts Bay Transit Authority Police and the Wareham Police Department.