Chicago man with prior arrest charged with police officer's murder
Chicago suspect Steven Montano has one previous arrest that was a dropped misdemeanor charge
An 18-year-old Illinois man has been formally charged in the death of a Chicago police officer who was shot and killed during a chase Wednesday.
Steven Montano, a Chicago resident, faces several charges, including first-degree murder, aggravated discharge of a firearm and interfering with reporting domestic violence in the death of Officer Andres Vasquez-Lasso.
Vasquez-Lasso, 32, was responding around 4:45 p.m. as Montano was chasing a woman across the street from an elementary school on the city's South Side, authorities said.
CHICAGO POLICE OFFICER KILLED, SUSPECT IN CRITICAL CONDITION AFTER SHOOTOUT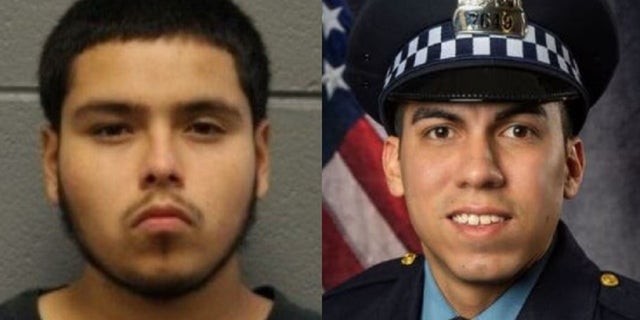 The officer was shot several times and Montano was shot in the head during a gunfire exchange. Vasquez-Lasso was rushed to the Mount Sinai Medical Center, where he died. Montano remains hospitalized.
The shooting occurred as children were playing at a school, witnesses said. Maria Davila told FOX Chicago she was at home watching a movie on her phone when the shooting happened. She went to her window and saw a man down in a parking lot next to the playground holding his chest and shouting.
Vasquez-Lasso was also on the ground and not moving, she said.
"Shoot me, shoot me," Davila said the man on the ground yelled at a second officer who was standing between him and Vasquez-Lasso.
Authorities have not released many details about Montano, but FOX Chicago reported he has one prior arrest when he was taken into custody last year after running from a stolen car that was wanted in a shooting.
CLICK HERE TO GET THE FOX NEWS APP
He was charged with a misdemeanor count of resisting or obstructing a peace officer, which was dropped months later. Prosecutors declined to file felony charges, according to an arrest report obtained by the news outlet.