Caylee Anthony's Family 'Appalled' After Casey Anthony's Attorney Blames Them for Death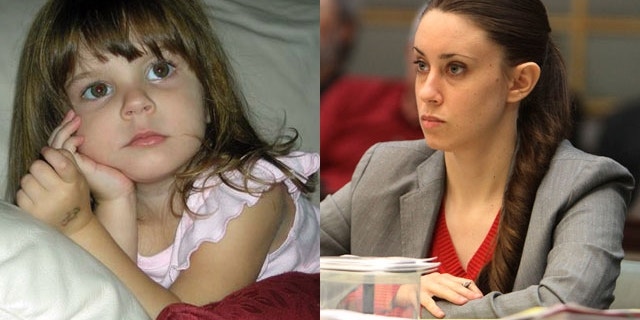 Casey Anthony's lawyer, in opening statements of the Florida mother's murder trial Tuesday, unveiled a stunning defense: Anthony's parents were to blame for their 2-year-old granddaughters' death, he said, and they tried to cover it up.
Defense attorney Jose Baez said the girl, Caylee, drowned in a pool at the grandparents' home, and he portrayed 25-year-old Casey Anthony as a loving mother who was abused by her own father as a child. And Baez alleged that Anthony's brother made advances toward her and was given a paternity test to see if he was Caylee's father.
That version of events and details of Casey Anthony's home life were swiftly rejected by Caylee's grandparents, George and Cindy Anthony, who were "appalled" by Baez's allegations, according to a statement issued by their attorney.
"The only result achieved by the defense in this statement was to further hurt this grieving family," the statement read.
Anthony, who is accused of first-degree murder, has pleaded not guilty and initially had said a baby sitter kidnapped Caylee, who was missing for a month before the police were alerted by Casey's mother.
But Baez told an Orlando courtroom on Tuesday that Caylee never disappeared. He claims the child died in the family's swimming pool.
"How in the world can a mother wait 30 days before ever reporting her child missing, it's insane, it's bizarre…Well the answer is actually relatively simple. She never was missing. Caylee Anthony died on June 16, 2008, when she drowned in her family's swimming pool," Baez told the courtroom.
George Anthony, the only witness to testify Tuesday, said he "would have done everything possible to save my granddaughter if what was said happened, happened."
Baez also claimed that Casey's brother made advances toward her and was given a paternity test to see if he was Caylee's father. All those secrets eventually led to the coverup of Caylee's drowning, Baez said.
Baez said Caylee and her grandmother swam most of Father's Day on June 15, 2008, and suggested that Cindy Anthony forgot to pull up a ladder that prevented the toddler from climbing into the pool on her own. Baez suggested that Caylee slipped into the pool the next day when no one was looking.
The distraught family panicked and didn't call police, he said.
"Casey should have called 911. That's what she's guilty of, she's not guilty of murder. This is not a murder case," Baez said.
Prosecutors offered a timeline of Casey's whereabouts based on cell phone records. It stretched from the time Caylee was last seen by her grandparents until Casey Anthony told her mother in mid-July 2008 that Caylee had been missing for a month.
Jurors were shown images on a screen of a photo of Caylee taken on Father's Day alongside an image of the little girl's skeletal remains.
During a lengthy opening statement, Baez said George Anthony planted duct tape matching the brand later found over Caylee's mouth in a way that would implicate Casey.
"George Anthony took certain steps to make sure he was as far away from this situation and that Casey would end up taking the blame for this," Baez said.
A meter reader discovered Caylee's remains, some as small as a pebble, in a wooded area in December 2008 about a half-mile from where the child lived. Her skull was covered with duct tape that had residue from a heart-shaped sticker on it.
Baez questioned whether the meter reader, Roy Kronk, actually found Caylee's bones where he said he did or whether he moved them from another location. Baez didn't explain where Kronk may have initially discovered the remains.
Baez also blamed the police department for botching the investigation, alleging detectives wanted to feed a media frenzy about a mother killing her child instead of investigating a mundane drowning.
Police "had murder on their minds. This couldn't be an accident," Baez said. "You'll find that professional police work took a backseat in this case. We were more concerned about the public than doing their jobs."
Casey was emotional throughout the day, crying periodically and wiping her nose with a tissue.
Prosecutors, meanwhile, described Anthony as a deceptive, party-going woman who fed her parents and police a string of lies from the beginning.
Prosecutor Linda Drane-Burdick told jurors that Anthony's appearance as a hardworking single mother was false.
"Casey Anthony ... appeared to be ... a loving mother, trying to provide support for her daughter," Linda Drane-Burdick said. "But as the evidence in this case will show, that was an illusion."
Anthony is also charged with aggravated manslaughter of a child, aggravated child abuse and providing false information to law enforcement. If convicted, she could face the death penalty.
Prosecutors said in their opening statement that Caylee died from her murderer placing three pieces of duct tape over Caylee's mouth and nose.
Drane-Burdick offered a timeline of Casey Anthony's whereabouts based on cell phone records. The timeline stretched from the time Caylee was last seen by her grandparents on Father's Day on June 15, 2008, until her remains were discovered by a meter reader in woods near her home in December 2008. Jurors were shown images on a screen of a photo of Caylee taken on Father's Day alongside an image of the little girl's skeletal remains.
"It is time to tell the story of a little girl named Caylee," Drane-Burdick said.
Drane-Burdick asked jurors, between descriptions of how Casey Anthony spent her days shopping, visiting friends and hanging out with her boyfriend with no signs of her daughter, "Where is Caylee Marie Anthony?"
Caylee was allegedly last seen by Cindy Anthony on June 15, 2008, when she said the two visited a nursing home together. The toddler's body was found six months later in swampy woods not far from the Orlando home she shared with her mother and grandparents – her tiny remains wrapped in a bag with a piece of duct tape found over the mouth of her skull.
Cindy Anthony reported the child as possibly missing to an Orange County Police dispatcher on July 15, 2008. Cindy asked that an officer be sent to her home to arrest her daughter for "stealing an auto" and money.
"I have someone here that I need to be arrested," Cindy said in her first 911 call. "I have a possible missing child. I have a 3-year-old that's been missing for a month."
A second, more distressed phone call followed about an hour later in which Cindy claimed Casey said the girl was taken by a baby sitter.
"My daughter finally admitted that the baby sitter stole her," Cindy said. "I found my daughter's car today and it smells like there's been a dead body in the damn car."
Casey allegedly told investigators that she dropped her daughter off with a baby sitter named Zenaida Fernandez-Gonzalez on June 9, and never saw the two again. She said she didn't notify police because she had been investigating the disappearance on her own and was scared, according to multiple press accounts.
But investigators say Casey told them lies from the beginning of the investigation – like claiming she worked at Universal Studios when she didn't. Pictures later surfaced that purportedly showed the young mother partying in the days after she claimed her daughter went missing.
Prosecutors say the evidence in the case against Casey is overwhelming.
Court documents released in November 2008, for example, show that someone searched the Internet in the Anthony home for phrases like "neck-breaking," "shovel," and "household weapons." A law enforcement official said air samples showed a human body had once been held inside the trunk of Casey's car. Traces of chloroform, a substance used to induce unconsciousness, were also detected inside the woman's car, according to officials.
What's more, Casey allegedly told fellow inmates at the Orange County Jail details about her daughter's death that only authorities knew. She also said that she sometimes drugged Caylee when she wanted to go out and party, the inmates allege.
The trial is expected to last from six to eight weeks. Jurors were picked from Pinellas County on the Gulf Coast and transported to Orlando, where they are being sequestered during the trial.
The Associated Press contributed to this report.