Casket of former Providence mayor Buddy Cianci paraded through streets
NEWYou can now listen to Fox News articles!
Buddy Cianci, the wisecracking politician who led Providence during a turbulent and troubled six terms as mayor, is being laid to rest Monday in an event as big as his personality.
Police officers and firefighters lined the steps of City Hall as the former mayor's casket was removed from the building. It was taken through the city streets by horse-drawn carriage to the Cathedral of Saints Peter and Paul.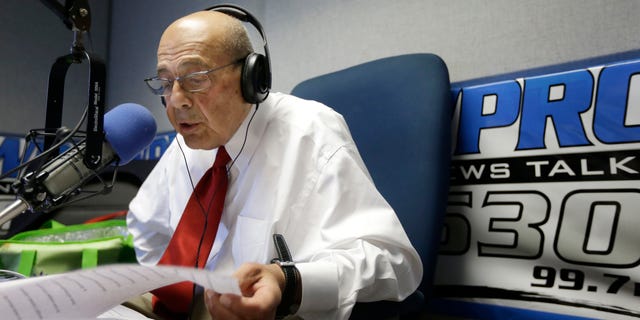 A bagpiper and police led the carriage. Mourners walked slowly alongside, followed by Cianci's family in a limousine.
The bishop of Providence will preside over Cianci's funeral. Cianci will then be driven slowly through one of his favorite neighborhoods, where residents have been encouraged to wave a final salute as he leaves the city for the last time.
"This has got Buddy's fingerprints all over it. We think this is what he'd want. Bigger is always better," said Cianci's nephew, Brad Turchetta. If Cianci had his way, Turchetta said, "he would want it broadcast in 46 countries."
Cianci died Jan. 28 at age 74. He served 21 years in office and was the city's longest-serving mayor.
Since his death, Cianci has been remembered as one of America's most colorful and skilled politicians, who became known nationally for one-liners, endless TV appearances and his own brand of pasta sauce. But he also is known for presiding over years of widespread corruption.
The Republican-turned-independent was forced from office twice. The first time was in 1984 after he pleaded no contest to assaulting a man he believed was sleeping with his ex-wife. He used a fireplace log, ashtray and lit cigarette and was aided by a city police officer.
He made a comeback in 1990, but was brought down again in 2002 with his conviction in a federal investigation into corruption. Cianci was convicted of racketeering conspiracy and spent 4 1/2 years in prison.
Cianci's cause of death still has not been released, but he was diagnosed with cancer in 2014 and underwent chemotherapy and radiation treatments and surgery.