California couple climbs Mount Everest for spectacular wedding: See the photos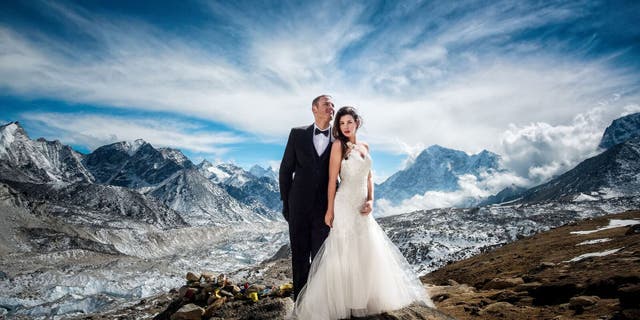 A northern California couple captured their wedding on Mount Everest in vivid photos.
James Sissom, 35, and Ashley Schmeider, 32, of Sacramento, California, in March climbed the earth's highest mountain with photographer Charleton Churchill for the adventurous wedding, according to USA Today.
"The photos are amazing and we'll treasure them for the rest of our lives, but the experience also brought us closer together," Sissom told People.
Schmeider became interested in Mount Everest after reading "Into Thin Air," a book about the author's experience during the 1996 Mount Everest disaster.
"This was kind of a bucket list trip for us," Schmeider said. "This is already something we had planned on doing in the future, but not necessarily for a wedding."
Schmeider contacted Churchill on Instagram, where the photographer posts pictures of the adventurous weddings and engagements he shoots. The couple and Churchill discussed and decided on Mount Everest for a wedding destination.
COUPLE WHO LOST 578 POUNDS COMBINED ARE GETTING MARRIED
The two spent nine months preparing for their hike.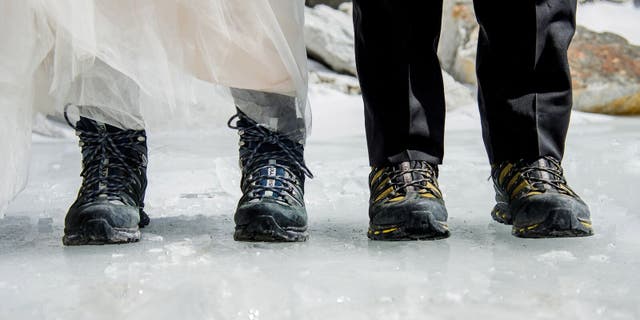 The couple, along with Churchill, hired porters, guides and cooks and then traveled on a 15-hour flight to Nepal. On March 8, the group began climbing. The group stayed in small brick structures along the hike and endured freezing temperatures and rising altitudes.
After eight days, the group made it to the camp on March 16, the wedding day. They were 17,500 feet high.
The couple had a small ceremony and posed for pictures in freezing temperatures. Both Sissom and Schmeider wore thermal underwear beneath their suit and dress.
MAN WHOSE WEDDING WENT VIRAL ACCUSED OF FAKING TERMINAL ILLNESS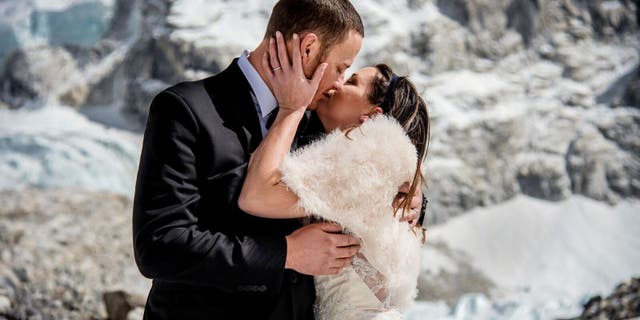 Schmeider said she was initially concerned about how the pictures would look.
"I didn't feel like the prettiest bride on my wedding day," she said. "I was really blown away when I saw them and I don't know how he made us look like we did."