Brutal DC murders linked to credit card scam involving rapper 'Jugga Knott,' reports say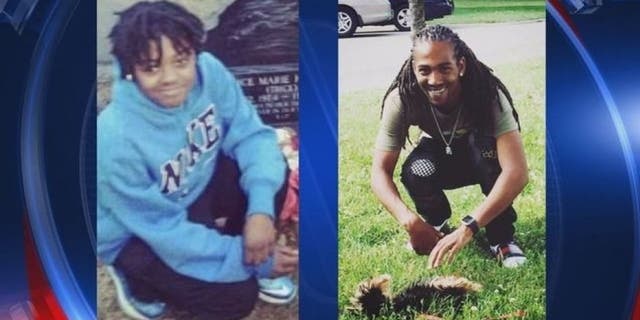 Three people brutally murdered in the D.C. area in December had reportedly been swept up in an alleged credit card scam with an aspiring rapper known as "Jugga Knott" -- who's now charged in one of the killings.
The murders happened on Dec. 28 during an 8-hour span. Ronzay Green, 23, was first gunned down in the parking lot of a 7-Eleven in Northeast D.C and efforts to save him were unsuccessful. Police in Prince George's County and Washington, D.C. then found Armani Coles, 27, dead on the side of Interstate-295 in Maryland and the body of Kerrice Lewis, 23, inside a burning car in a Southeast D.C. alley.
In a 10-page affidavit, witnesses told police all three victims were involved in a credit card scheme with Dennis Whitaker, a 23-year-old rapper, who allegedly decided to kill the trio after believing he was going to be set up for a robbery, FOX5 DC reported.
"Dennis Whitaker and Ms. Lewis were beefing, because Dennis Whitaker believed Ms. Lewis had set him up and got him shot at," WTOP reported police saying in the affidavit.
But D.C. Police Chief Peter Newsham, who called the crimes "horrible," declined in an interview with the Washington Post to elaborate on a motive. The newspaper said the credit card scheme and another possible reason -- an old gambling debt – have not yet been corroborated by investigators.
It was also not immediately clear what the alleged credit card scam entailed.
To date, police have hit three suspects with first degree murder charges related to the killings: Whittaker for Green's death, Ashton Briscoe, 23, for Lewis' death and Malique Lewis, 20, for Coles' death.
In another twist, authorities say Briscoe and Lewis were friends with Green, and Whittaker – the man charged with killing Green – was friends with Coles and Kerrice Lewis.
Coles was a custodian for D.C. Public Schools and the father of an 8-year-old boy.
"I am glad to have some closure," Amber Coles, his mother, told FOX5 DC in mid-January. "I want to ask that person why would they take a life so precious away from his family. Armani was my perfect Angel. He was the worlds greatest dad and son."
Lewis, who recently spent time in jail, according to her grandfather, was trying to turn her life around.
"Anytime you lose a family member, especially like this, it just rips your heart out," the grandfather, William Sharp, told FOX5 DC in late December.
Records and court testimony viewed by the Washington Post say both victims were executed in the same alley by the same gun, with Lewis being shot 15 times. Their bodies were then apparently transported to the locales where they were eventually found.
Briscoe – who was ordered detained Monday during an appearance in D.C. Superior Court – also acted as a "lookout" during the shootings, Assistant U.S. Attorney Thomas Saunders said, according to the Washington Post.
FOX5DC reported Lewis' last picture to her Instagram account was of Green.
During Green's murder, Whittaker allegedly said, "You think I'm playing? I'll bust you," before shooting Green in the chest and hand as he walked out of the 7-Eleven, a witness reportedly told police in the arrest affidavit.
The witness said they recognized Whittaker from pictures on his Instagram account and Whittaker called police to surrender two days later, saying he "feared his family was in danger," the affidavit stated, according to the Washington Post.
An Instagram account purportedly belonging to Whittaker – a.k.a. "Jugga Knott" – had numerous videos of him smoking what appeared to be marijuana and flashing wads of cash while his rap songs played.