In one of the country's busiest airports, they spend their days scanning packages and mail to stop a flow of drugs from across the world enter the country.
As opioid overdoses continue devastating large swaths of the country, the U.S. Customs and Border Protection agents working at John F. Kennedy Airport in New York City find themselves on the frontlines of the tragic war on drugs.
Their work is more tedious but important. They use drug-sniffing dogs, X-rays and hand-held laser detectors to examine every piece of mail that goes through the international mail facility, where 60 percent of the nation's postage arrives. The federal agents, who gave Fox News a behind-the-scenes look at what they do, process 1 million packages a day looking for traces of illegal drugs.
TRUMP OFFICIALLY DECLARES OPIOID CRISIS A NATIONAL EMERGENCY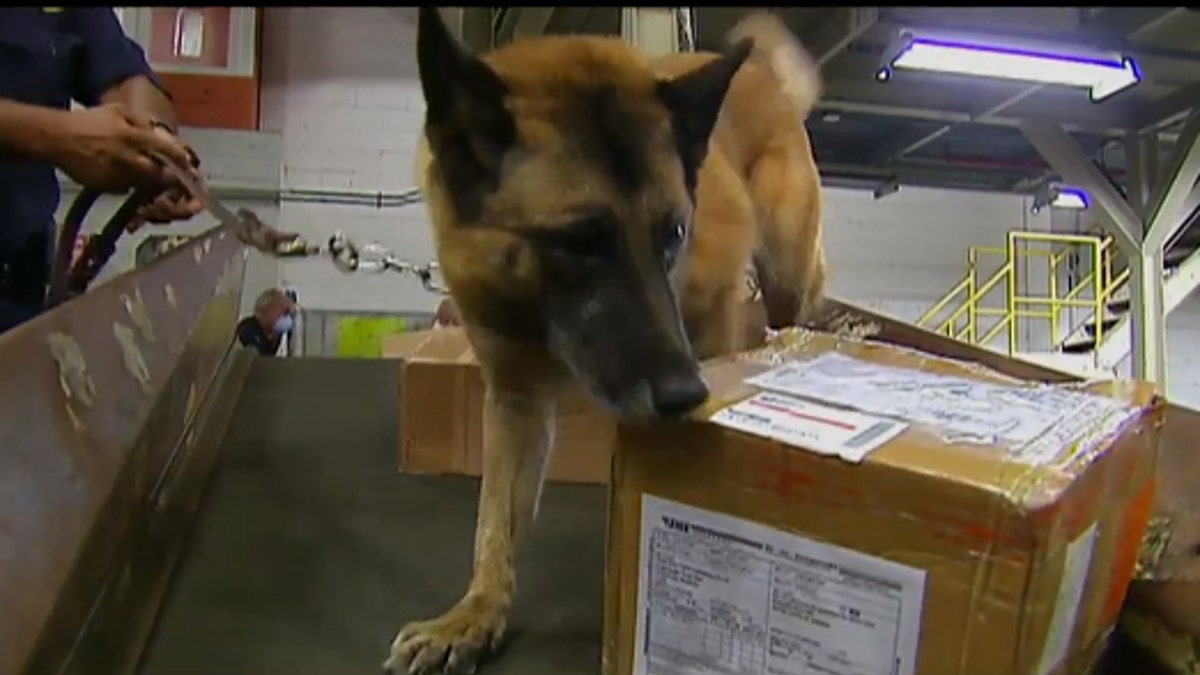 Their focus, right now, is on opioids.
"The No. 1 drug killing Americans is fentanyl," said Richard Baum, acting White House drug czar said, "coming through mail in lots of small packages."
The latest figures show more than 33,000 people in the U.S. died from drug overdoses involving opioids in 2015, according to the Center for Disease Control and Prevention. CBP agents at JFK say day after day they find drugs hidden in unusual ways.
"We just found a package that contains GBL, which is a date rape drug," said Frank Russo, JFK's CBP port director, holding up a bottle of Turtle Wax. "As you can see, the package includes sponges to make us think it's turtle wax car wash equipment."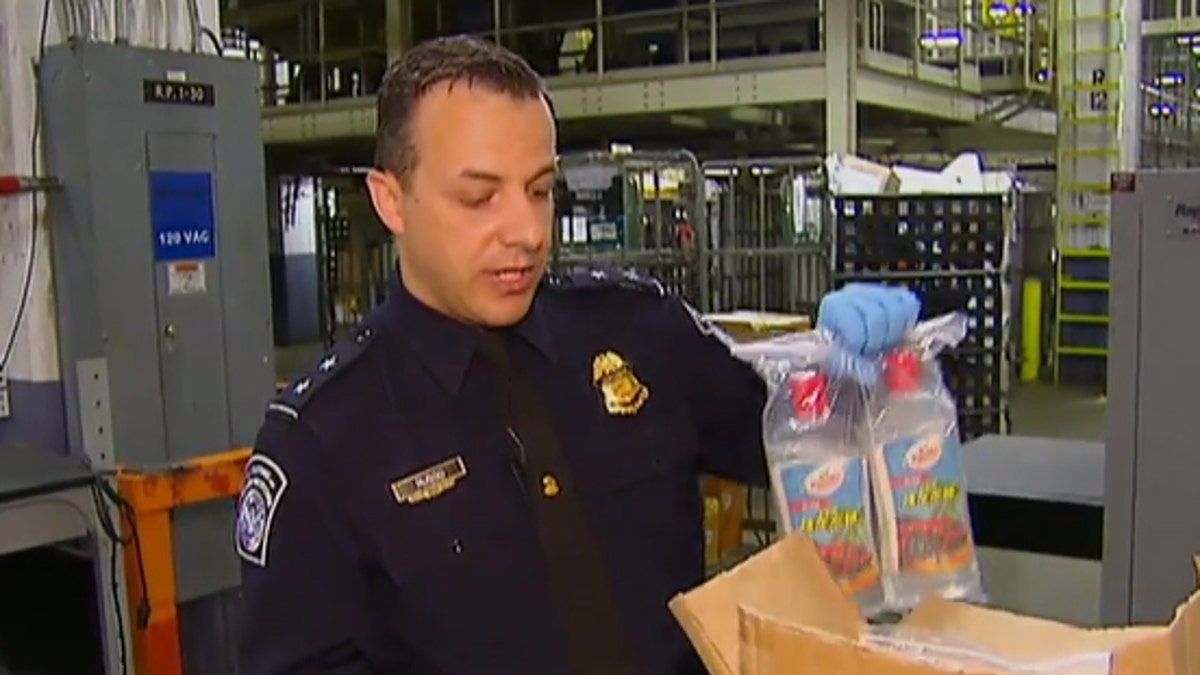 2 PASSENGERS ON SAME FLIGHT BUSTED WEARING COCAINE PANTS
Fetanyl, one of the deadliest opioids, arrives in large numbers in concealed packages coming primarily from Hong Kong.
Screening is a challenge. But now, with updated technology, the fight to stop fentanyl and other opioids form entering the U.S. is getting easier.
More than 100,000 pounds of narcotics are seized each year at JFK's international mail facility, once a substance like fentanyl is identified. The suspected illegal drugs are brought to a detention room at the airport, where they are tested and sent to a lab. Once confirmed, that's when the investigation begins.
One of the biggest legal hurdles is the lack of tracking information from international senders, which is still not a requirement.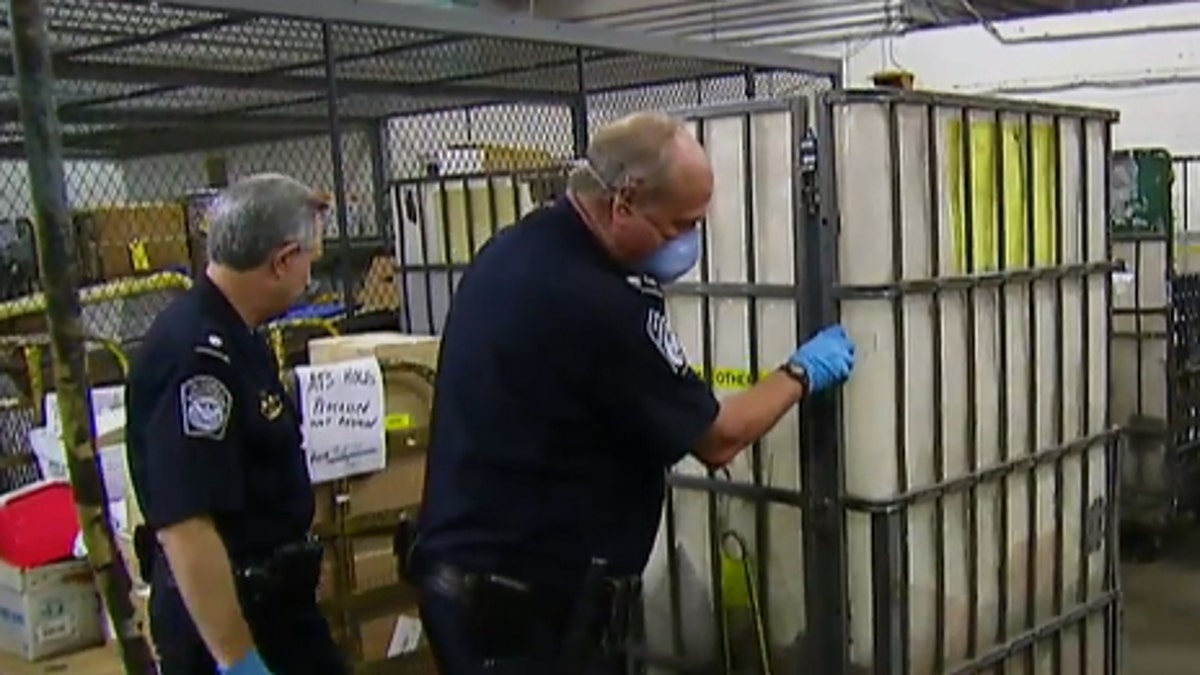 While legislation demanding more data has been introduced, Baum and the CBP continue to work with their peers overseas to find those trying to cheat the system.
HEROIN FOUND HIDDEN IN DOG CRATE AT NEW YORK'S KENNEDY AIRPORT
"I just think we can't stand still," Baum said. "The sorting problem is so huge that we need better quality data earlier."
But just because the international mail delivery guidelines are not stringent enough, Russo said, does not mean they won't find those responsible.
"The message is," Russo said, "we are working to find you and bring you to justice."