Bold rescue: Slackliner saves unconscious man dangling off chairlift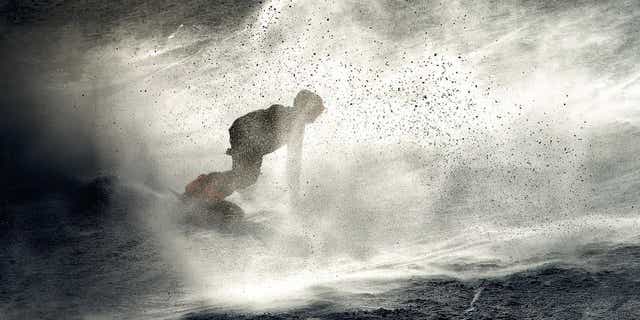 A man who was unconscious while dangling from his neck on a chairlift at Arapahoe Basin Ski Area in Colorado was saved by a professional slackliner in a daring rescue on Wednesday.
FIREFIGHTERS RESCUE DOG THAT FELL THROUGH ICE INTO LAKE
Mickey Wilson, the slackliner, posted photos to social media showing the harrowing rescue after he climbed a lift tower, went across the lift cable and cut down the man with a knife.
"Today I saved someone's life. I think some strange forces were at work," Wilson wrote on Facebook.
VOLUNTEER FIREFIGHTER TRIES SAVING DAUGHTER AFTER TREE FELL ON HOME, BUT IT WAS TOO LATE
Wilson was skiing at friends when a member of the crew got his backpack strap stuck in the chairlift as he tried to unload. The lift dragged him back down the hill.
"We were on the chair lift behind so we unloaded and ran down the hill to help him when we realized the worst possible thing had happened," Wilson wrote. "The backpack had wrapped around his neck and he was unconscious, dangling 10 feet above the snow."
Wilson said he and his friends tried to build a human pyramid to get to him but they couldn't.
Panic was becoming terror as we realized we were about to watch our friend die in front of our helpless eyes," Wilson wrote.
Then, Wilson had what he called a "Eureka" moment.
He climbed the lift tower above the chair and onto the cable, then slid down to his friend.