Body of missing major junior hockey player found in Mich. parking lot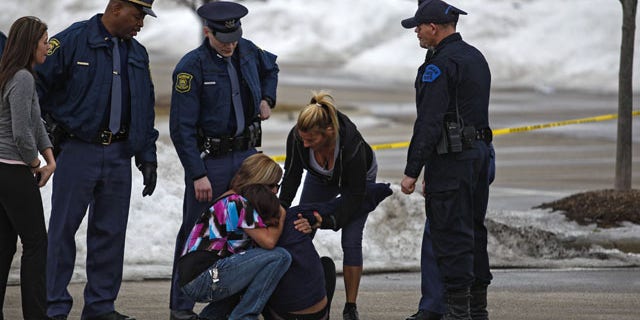 The Saginaw Spirit major junior hockey team confirmed Tuesday that the body of one of its players was found in his car in a Wal-Mart parking lot.
Terry Trafford, 20, of Toronto, Canada, had last been seen March 3 at the Spirit's home area. His girlfriend, Skye Cieszlak, told the Saginaw News that she had received a text from Trafford the day before saying "his life was over and he didn't want to do it anymore." Police did not immediately indicate the cause of Trafford's death.
The team confirmed earlier Tuesday that Trafford had been sent home as a disciplinary measure for a violation of team rules on a recent road trip. However, team president and managing partner Craig Goslin said that Trafford had not been dismissed from the team.
"That would have been up to Terry," Goslin told the News. "He'd have to change his behavior and make some adjustments. He was on the roster."
The Ontario Hockey League (OHL) announced that the scheduled Wednesday game between the Spirit and the Sault St. Marie Greyhounds had been postponed. "Our deepest condolences are with Terry's family and his friends both in Ontario and Michigan," a statement from the team said. "Terry played on our team and was a member of the Spirit family for the last four years and he will be missed."
Trafford was in the middle of his fourth season with the Spirit and had recorded 8 goals, 24 assists, and 70 penalty minutes in 54 games. The club had drafted him in the third round of the OHL Priority Selection. The OHL is one of three major junior leagues in the Canadian Hockey League, considered one of the top developmental leagues for young hockey players.
Click for more from the Saginaw News