Body cam footage shows Ohio police officers saving choking baby
Body cam footage shows two police officers in Shaker Heights, Ohio, rescuing a choking baby, as the mother's vehicle was stopped in the middle of traffic.
The police officers on Tuesday saw the mother Tamica Pruitte's vehicle with its emergency lights blinking and pulled up behind it, reports said.
"We saw a female exit the car, run to the passenger rear door and appear to be in some distress," Officer Ryan Sidders told Fox 8 Cleveland.
Officer Alex Oklander said he noticed the 2-month-old baby Tyra in the back seat was not breathing.
"The baby had what seemed to be milk coming out of her mouth and nose," Oklander said. "That's when we administered the back thrusts."
After several attempts, the baby's airway was cleared.
Sidders is a four-year officer, while Oklander, who has been on the police force for only a few weeks, said his experience as a dad-of-four helped him react quickly.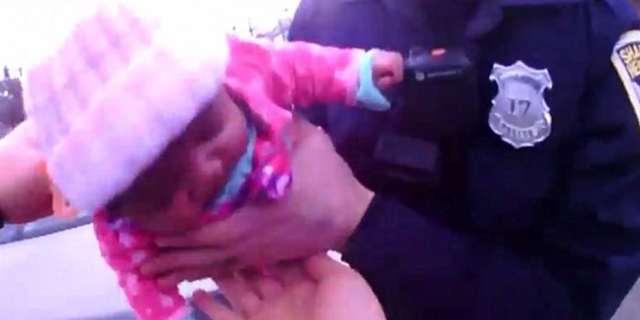 "Having kids, I've actually had to do that with my own kids," Oklander told WKYC-TV.
Pruitte told the channel Tyra was born prematurely and has lung problems that make her susceptible to choking.
"When you're a parent, and your baby's choking, you don't think about nothing but saving your baby's life," she said.
Sidders said he's "just thankful that everybody went home today safely" and that he and his partner "saved a life."