Black water pouring out of Texas town's faucets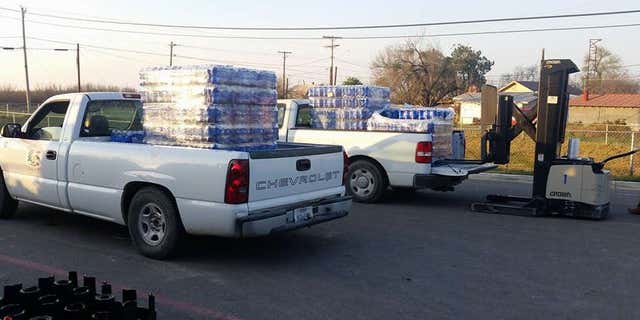 A Texas town is facing another crisis days after its mayor, city manager, mayor pro tempore, a city councilman and a former councilman were arrested earlier this week.
Crystal City residents don't have any water they can drink. Black water came out of the pipes in homes in the tiny city where the sweeping bribery and conspiracy indictments brought down city leaders. Volunteers handed out donated bottles of water on Friday, as state environmental officials test the water for bacteria.
Joel Barajas – the only City Council member not facing criminal charges – told the San Antonio Express-News that he was grateful to residents elsewhere in the region who donated water. The city has blamed the water problem on dirt and mud build up in a water tank that was flushed, the newspaper reported.
"There are caring people in Southwest Texas," said Barajas, who has been thrust into being the point person for all of the city's departments.
Residents told Fox San Antonio Thursday they weren't warned that the water tank was going to be flushed and were surprised of what was coming out of their faucets.
"It smelled as soon as I turned on the water we were getting ready for showers and I smelled it and then I started getting the text from my friends 'hey is this happening at your house look what's going on at mine," a woman identified only as Nora told Fox San Antonio.
"We didn't get a warning; we didn't get a warning that this was going to happen," she said.
And to add even more to the town's woes, the Texas Education Agency said Friday that the local school district could lose its accreditation after failing to meet state standards for the third straight year.
Crystal City leaders were charged with taking bribes from contractors and sending city workers to help an illegal gambling operator, according to a federal indictment released earlier this month. Another councilman is facing unrelated allegations that he helped smuggle Mexican immigrants into the U.S.
Mayor Ricardo Lopez resigned Friday afternoon, just days after he was arrested during a City Council meeting following a scuffle with an angry audience member — in full view of television cameras. That meeting was held to schedule a recall vote for Lopez and two City Council members.
"I feel bad talking about the little town where I grew up, but this is ridiculous," Alicia Martinez told the Associated Press, 33. "We need help to get it back to where it used to be."
The Laredo office of the Texas Commission on Environmental is investigating the reports of black water. A water department employee said residents should boil water before using it.
The Associated Press contributed to this report.