Authorities release 'time-progressed' photos of escaped New York inmates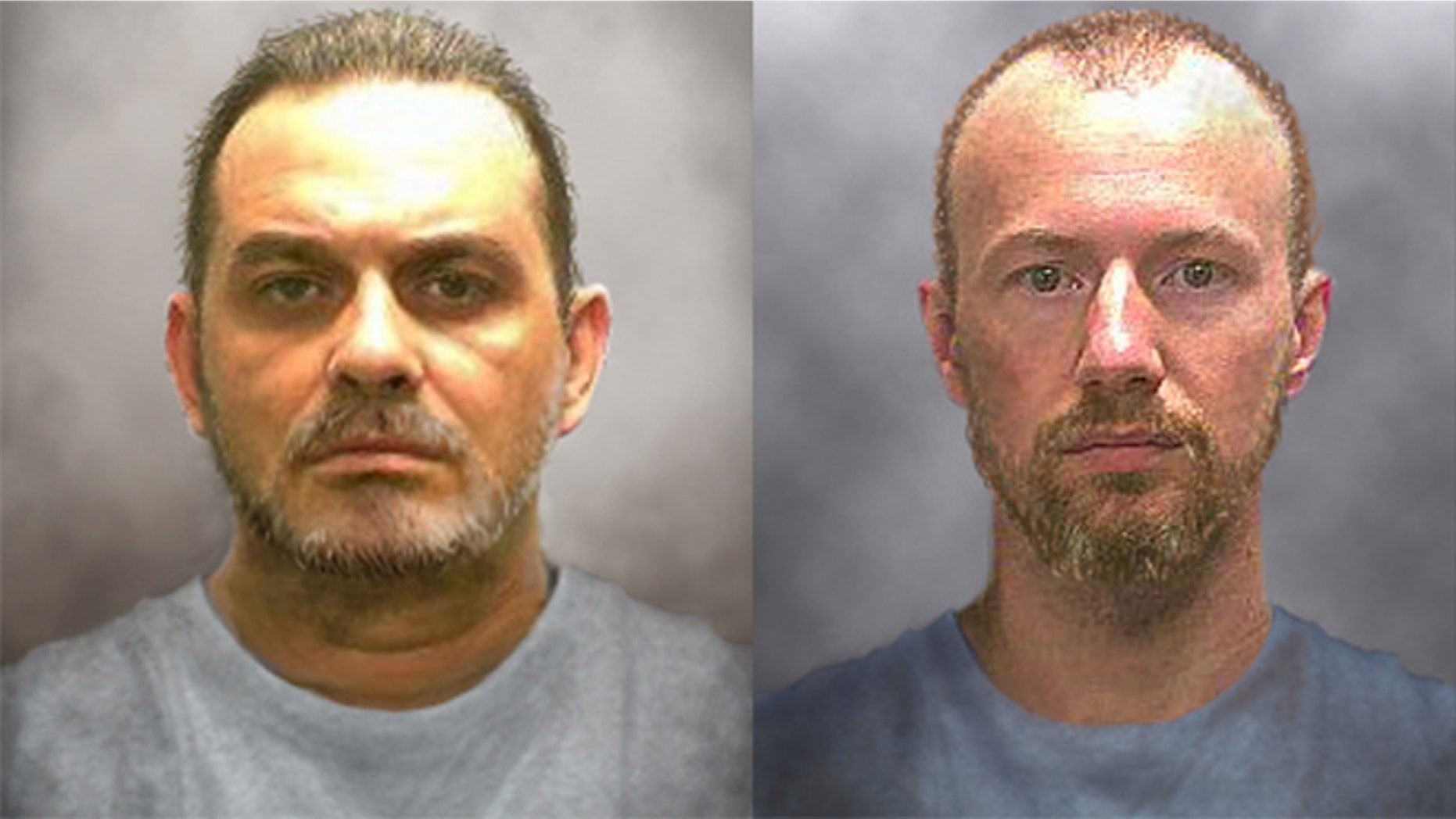 Authorities released photos Wednesday of what two convicted killers might look like 10 days after escaping a maximum-security prison in upstate New York.
The time-progressed images of escapees Richard Matt, 48, and David Sweat, 34, were released by the New York State Police in the hopes the public might recognize the men evading authorities since their brazen escape June 6 from the Clinton Correctional Facility in Dannemora, 20 miles south of the Canadian border.
Matt and Sweat remain on the loose for a 12th day since using power tools to cut their way out of their cells. Hundreds of law enforcement officers have searched the wooded, swampy areas south and east of the prison since the breakout. State police say the search area is now being expanded.
To date, state troopers, along with officers and forest rangers from the Department of Environmental Conservation, the Department of Corrections and Community Supervision, the FBI, U.S. Marshals, U.S. Customs and Border Protection, the Clinton, Franklin and Essex County Sheriff Departments and the Plattsburgh Police Department, have searched more than 10,000 acres.
Prison tailor shop instructor Joyce Mitchell, 51, was arraigned Friday on a felony charge of promoting prison contraband and misdemeanor count of criminal facilitation, authorities said. Mitchell is accused of aiding in the escape of the inmates. She was ordered held in jail on $100,000 cash bail or $200,000 bond on felony count.
District Attorney Andrew Wylie said last week the contraband did not include the power tools used by the men as they cut holes in their cell walls and a steam pipe to escape through a manhole last weekend.
Police are urging the public to report any suspicious activity, including signs of a trespass, burglary or vehicle larceny, to law enforcement.
FoxNews.com's Cristina Corbin and The Associated Press contributed to this report.