Atheist group demands Rhode Island city remove cross from atop war memorial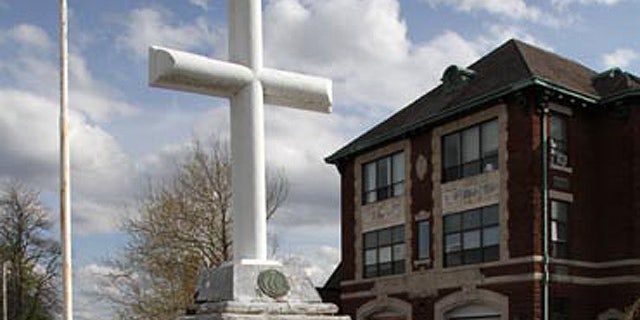 A national atheist organization is demanding that a Rhode Island city remove a cross from a 91-year-old memorial honoring hometown soldiers who paid the ultimate sacrifice for their county.
Although the memorial has stood in the parking lot of the Woonsocket fire station for decades with no complaints, the Freedom from Religion Foundation is now calling for it to be stripped of the cross that sits atop it, claiming it violates the First Amendment's freedom of religion clause. The group also wants the Woonsocket Fire Department to remove "The Firefighter's Prayer" and a picture of an angel from its website.
Atheist group wants firefighter's 91-year-old war memorial and prayer removed: MyFoxBOSTON.com
"We ask that you immediately remove the cross from the Fire Station parking lot and remove the prayer and angel from the Woonsocket Fire Department website," the foundation's senior staff attorney, Rebecca Market, wrote in a letter to Woonsocket officials.
The memorial was erected nearly a century ago to honor the city's war dead, including three brothers killed in World War I. Mayor Leo Fontaine told the Woonsocket Call he will not remove the cross "under any circumstances."
Tom Poole, a disabled veteran, is one of many former soldiers in Woonsocket trying to protect the memorial cross, MyFoxBoston.com reports.
Roger Jalette, a longtime Woonsocket City Councilor, told FOX 25 that it could cost hundreds of thousands of dollars to fight the group in court. The city is currently facing the possibility of bankruptcy and does not necessarily have the money to fight this battle.