At least 11 killed as tornado outbreak ravages parts of North Texas
Emergency responders are searching for survivors after a series of tornadoes and other severe weather events created havoc across North Texas on Saturday, resulting in the deaths of at least 11 people.
"As of right now, we are still in the search and rescue mode," Rowlett police spokesman Det. Cruz Hernandez said. "We still have some homes that have been demolished and not everyone in the homes has been accounted for."
The twisters — accompanied by torrential rain, wind and some hail — were responsible for eight deaths in Garland, two deaths in the unincorporated town of Copeville and another death in Blue Ridge, according to Fox 4 News and the Associated Press.

Local officials estimated as many as 1,000 homes were damaged or destroyed. Vehicles were mangled, power lines fell and trees were toppled. Heavy rain, wind and falling temperatures hampered cleanup efforts Sunday afternoon.
"This is a huge impact on our community and we're all suffering," Garland Police Lt. Pedro Barineau said of the community about 20 miles northeast of Dallas, where eight people died, 15 were injured and about 600 structures, mostly single-family homes, were damaged.
Dallas County Health and Human Service Director Zack Thompson said the area "looks like a war zone."
Forecasters said two of the tornadoes that hit the Dallas area had winds nearing 200 mph.
The weather service said the tornado in the suburb of Garland has been rated an EF-4. That's the second-most powerful tornado on the damage scale used by meteorologists and is generally strong enough to level well-constructed homes and toss cars. The weather service also said damage in nearby Rowlett indicated it was likely an EF-3 tornado, which has winds up to 165 mph.

Four people killed were involved in traffic accidents during the massive storm, according to Garland police spokesman Joe Harn. At least three people who died were found in vehicles, Barineau said, though it's unclear if they were among the four involved in traffic accidents. Barineau added that some cars appeared to be thrown from Interstate 30 and George Bush Turnpike when the tornado hit about 6:45 p.m. Saturday. It wasn't known whether that was the case for the people found in the vehicles.
Collin County Sheriff's Deputy Chris Harvey confirmed the three
non-Garland deaths, but didn't provide the details of their deaths.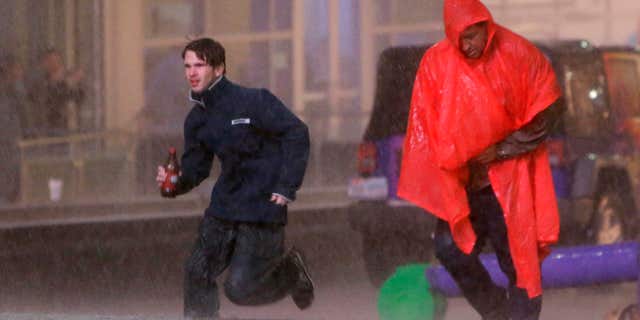 At least 38 people have been reported injured throughout the state.

Tornado warnings in the North Texas area were issued Saturday afternoon and continued through the night as the dangerous weather descended on parts of Collin, Dallas and Ellis Counties.
Several tornadoes touched down in the Dallas area, according to National Weather Service Meteorologist Anthony Bain in Fort Worth.
The severe weather blew the roofs off homes and left vehicles mangled or turned upside down, churches damaged, power lines down, natural gas lines burst, trees toppled and debris strewn across neighborhoods. The damage stretched over about a 40-mile long expanse from 20 miles south of Dallas to an area northeast of the city.
"I just heard a noise I'd never heard in my life," a witness told KDFW. "My kids started screaming."
The Red Cross said it was setting up shelters for people whose homes were damaged by the storm.
"I think everyone understands now the gravity of what happened," Anita Foster, spokeswoman for American Red Cross of North Texas, said on WFAA.
Texas Gov. Greg Abbott made disaster declarations Sunday for four counties — Dallas, Collin, Rockwall and Ellis — and warned that the number of victims could rise.
On the other side of his state, the Texas Department of Public Safety in Amarillo strongly discouraged travel throughout the entire Texas Panhandle — a 26-county area covering nearly 26,000 square miles — because blowing and drifting snow had made the roads impassable.
Interstate 40 west of Amarillo to the New Mexico border was to be closed until Monday morning.
Oklahoma Gov. Mary Fallin declared a state of emergency Sunday as there were blizzard conditions and an ice storm warning out west and flood warnings in the east, where one community had received 9 inches of rain.
Further north, rain caused dangerous driving conditions and flooding in Missouri and Illinois.
Six people died overnight when two separate vehicles drove into flooded roadways in south-central Missouri, Pulaski County Sheriff Ronald Long said, and KYTV reported that authorities recovered the body of a driver Saturday from a creek in the southwest part of the state.
The Associated Press contributed to this report.
Click for more from Fox 4 News.