As Hurricane Lane nears, Hawaii governor requests presidential disaster declaration
As Hurricane Lane nears Hawaii, officials and residents prepare for the fierce winds and heavy rain that are expected to hit the Pacific islands.
Hawaii Gov. David Ige said during a news conference Wednesday that he requested a presidential disaster declaration, "which allows us to preposition the state, should the need for federal assistance arise during the Hurricane Lane effects."
The Category 4 storm, currently situated about 400 miles south-southeast of Honolulu, is expected to bring maximum sustained winds of 150 mph, and currently is moving west-northwest at 8 mph, according to an 8 p.m. ET update from the National Weather Service's Central Pacific Hurricane Center (CPHC).
The storm was listed earlier as a Category 5 storm before a decrease in wind strength. Hurricane warnings are in effect for Hawaii County and Maui County, in addition to several islands, the agency said. Oahu and Kauai County are under a hurricane watch.
"A steady weakening trend is forecast to begin today, but Lane is expected to remain a dangerous hurricane as it approaches the islands," the CPHC said in the Wednesday evening update.
Parts of the state under hurricane warning should see tropical storm conditions by Thursday morning before strengthening to hurricane level severity later in the day, CPHC said.
Heavy rain from the storm is anticipated across "portions of the Hawaiian Islands" through the weekend, the update said, which "could lead to major flash flooding and landslides."
With the potential of rain, wind and coastal flooding on the island of Oahu, Honolulu Mayor Kirk Caldwell said they are "using an abundance of caution as we go forward."
"We're planning for the worst and hoping for the best," he said.
Starting Thursday, only disaster response workers were expected to report to work, Caldwell said, echoing a tweet from the governor, who is permitting administrative leave for all "non-essential state employees on Oahu and Kauai." Ige previously issued the same authorization for similar employees on the Big Island and Maui.
Hurricane evacuation shelters are expected to be opened Thursday morning, Deputy Director of Emergency Management Hiro Toiya said during the news conference. There is very limited space in the shelters, Toiya said, adding that the facilities essentially will be "standing room only," and will be stocked with very few supplies, so residents should prepare to bring their own.
"Most" of the shelters "have not been designed or hardened to withstand winds greater than a tropical storm," he said, before adding that they were still "a safer option" for people in potential flood areas or those who lived in older homes. He also encouraged people to consider the option of staying with friends and family.
Among the other preparations announced by the mayor and other officials from the city included cancelling all public schooling on the island and concluding regular bus service Thursday evening until after the storm. Public schools also were closed on the Big Island and in Maui County until further notice.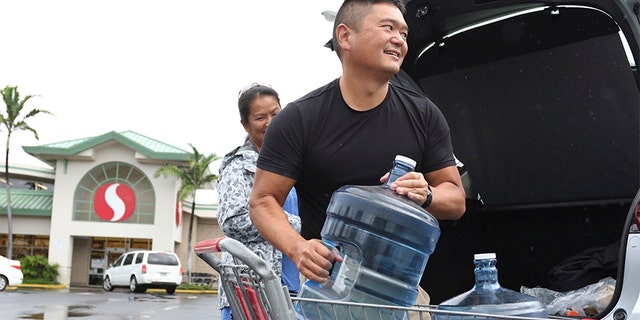 Residents in Hawaii rushed to stores to stock up on bottled water, toilet paper and other supplies as they faced the threat of heavy rain, flash flooding and high surf.
"We're planning on boarding up all our windows and sliding doors," Napua Puaoi of Wailuku, Maui, told The Associated Press after buying 16 pieces of plywood from Home Depot. "As soon as my husband comes home — he has all the power tools."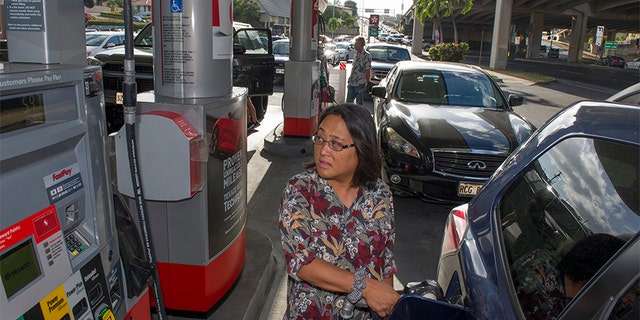 Lane is the strongest storm to come this close to Hawaii in recorded history, and only six Category 5 storms have been located in this part of the Pacific Ocean.
The Aloha State, while located in a vast ocean, has not had many brushes with large tropical systems. According to the National Oceanic and Atmospheric Administration's database, there is no record of a hurricane track within 65 nautical miles of either Maui or Honolulu since statehood.
For Hawaii, the "big one" came in in 1992 when Hurricane Iniki struck the island of Kauai as a Category 4 storm, causing $3.2 billion in damage and killing six people, according to Fox News Senior Meteorologist Janice Dean.
Iniki is still the costliest and deadliest storm to hit the islands in recorded history, and only two other hurricanes — an unnamed storm in 1871 and Dot in 1959 — have hit a Hawaiian island in that time period.
Fox News' Travis Fedschun, Janice Dean and The Associated Press contributed to this report.