Armed robber gives unusual parting message: 'Have a blessed day'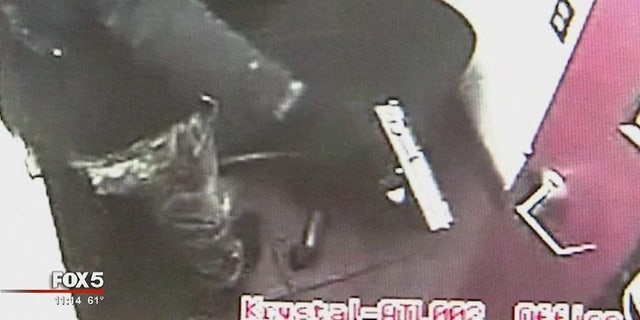 A robber in Georgia had an unusual message to the woman he held at gunpoint.
Police in Covington told Fox 5 Atlanta that man wearing a black ski mask and holding a handgun entered Krystal restaurant late Saturday night and terrified a female employee.
Before fleeing, the robber said something that caught even police by surprise.
"On his way out, he told the employee to have a blessed day – which is not usual," Officer Allan Seebaran said. "We've never had that happened before, but he is obviously a dangerous man and we don't know what his intentions are with the gun so we have to get him off the street."
FLORIDA WOMAN ACCUSED OF THROWING TAMPON AT POLICE OFFICER
Police released a security of the armed robber in hopes someone will recognize the green fatigue pants or the black and silver handgun he used.
"He brandished a handgun demanded money and told the employee not to make any noise," Seebaran said. "Then [he] said, 'I know about the drop box. I want the money in the drop box.'"
Investigators said the robber knowing about the drop box is an indication that he was familiar with the restaurant.
"We don't know if he once worked there or know someone who does, but he obviously knows his way around," Seebaran said.
The employee, who was not identified, told Fox 5 Atlanta that she was afraid the robber was going to kill her.
SOUTH FLORIDA PAIR ARRESTED IN $17 MILLION BANK FRAUD SCHEME
"He kept asking for more money after I had already given him everything I was about to deposit that night. I just screamed and kept begging him not to kill me," the woman said. "He told to hush and just put the money in the bag."
She added: "I thought I was he was going to kill me. I can't even sleep at night thinking about that gun at my head. I'm scared and I hope whoever knows him will tell police who he is before he kills somebody."