Arkansas cop's outreach brings praise, 1M Instagram followers
NEWYou can now listen to Fox News articles!
Veteran cop Tommy Norman recently heard from a man he arrested a decade ago, but instead of getting an earful from a career criminal, the North Little Rock police officer got a belated thank you.
The man, now a 25-year-old truck driver,explained that the kindness Norman showed while detaining him for shoplifting at McCain Mall changed his life. It's just the latest example of how Norman, one of thousands of police officers around the nation who work every day to reach struggling youth in poor communities, has made a difference.

"That moment goes to show police officers should treat people with dignity and respect, no matter what kind of crime they committed," Norman told FoxNews.com. "Don't talk down to them. Your badge should have a heartbeat."
Norman, 43 and a cop since 1998, is a role model for both the youth he protects and his fellow officers amid raging national controversy about how police and minority communities interact.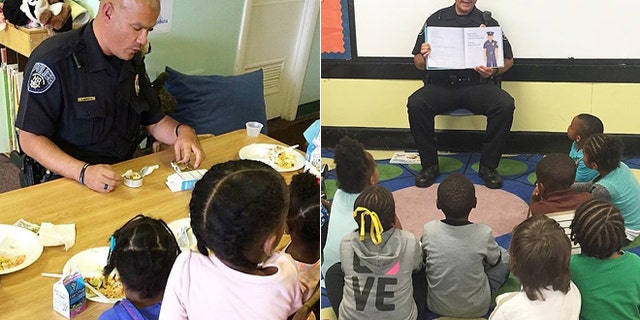 The white officer, who has more than 1 million followers on his Instagram page, documents his hands-on approach to interacting with black members of his community on the social media platform.
As policemen across the country are met with growing animosity, Norman has experienced an outpouring of praise, including from a Mississippi woman who sobbed as she thanked him for his service after perusing his Instagram.
"She had been so hurt about current events and the police shootings," Norman said. "She said her life was changed as far as she viewed police officers."
It's a common sight on Norman's beat for children to run to his patrol car for candy bars, sodas and even a "hug, smile or handshake."
"When you put on that uniform and you put on that badge and get in that police car, your heart should be leading the way," Norman said.
Norman's boss, Police Chief Mike Davis, appreciates the positive impact Norman has had on the community, telling FoxNews.com that the officer encourages "young people to run to us, and not away from us."
Norman's outreach has prompted the famous rapper known as The Game and his 13-year-old son, Harlem, to set up a GoFundMe page to help Norman "continue his mission strengthening the community."
"Every police interaction does not have to be a negative one and Officer Norman is changing that one person at a time," the fundraising description says.
So far, the page has raised nearly $70,000 in donations--money that will be used to benefit the central Arkansas community, Norman said.
"I've been doing this way before social media, but social media changes the game," said Norman, who has received more than 40 boxes containing snacks, clothes and school supplies since the page was created.
The Game wrote in an Instagram post last week that he was "touched by how active [Norman] is in the black community." The fundraiser was the brainchild of Harlem, who brought up the subject while the two discussed the ongoing controversy.
The support will likely have an impact on the black community, strengthening their trust in police "because of the faith they have in Harlem," Norman said, who hopes to meet The Game on a major talk show, tentatively in the works to air within a few weeks.
Norman recalled the impression former North Little Rock Police Chief Mike Shepard made on him on bike patrol in the mid-1990's.
"I can definitely see why he does the same thing today," Shepard told FoxNews.com, praising Norman's personality. "He has lots of life and likes to joke-that's probably why he gets along so well with kids."