Arizona mom says she feels 'betrayed' by babysitter after kids found dead in car seats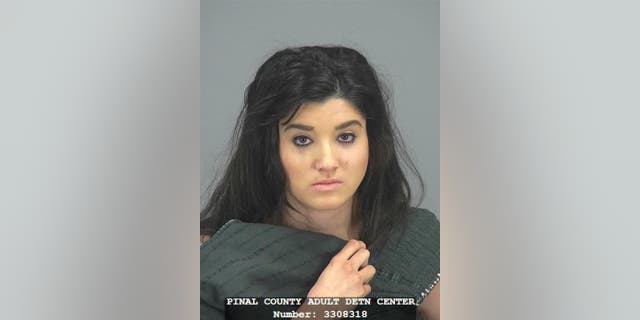 NEWYou can now listen to Fox News articles!
An Arizona woman accused of killing her toddler son and infant daughter said Wednesday she feels "betrayed" by the children's babysitter, who she claims was watching them the day they died.
Brittany Velasquez, 20, contacted the FOX10 Phoenix newsroom from jail and denied murdering her two children.
"I haven't been showing too much emotion to everything that's going on, because I don't know how to feel. I'm just very hurt. My pride and joy were taken from me, and it makes me really mad," she said.
Velasquez also told FOX10 she felt betrayed by the babysitter, and that she had worked a 12-hour shift at a restaurant the day the two children were found dead.
"It makes me very mad," she said. "I feel betrayed. I really feel betrayed."
ARIZONA MOM TRIED TO BLAME SOMEONE ELSE AFTER KIDS FOUND DEAD IN CAR SEATS, POLICE SAY
Authorities, however, said that she never left her children with a babysitter but instead left them in the car for the entire day, which led to their deaths. The two children were found "cold to the touch" in a vehicle, still strapped into their car seats, according to court documents filed last month.
The 20-year-old at one point also blamed the children's death on her grandparents, who denied knowing any arrangement about caring for the children.
In another point during the 10-minute phone conversation with FOX10, Velasquez said her daughter was "very, very happy," adding "there's not a moment I'd never seen her smile."
ARIZONA MOTHER ARRESTED AFTER TODDLER, BABY FOUND DEAD IN CAR SEATS, POLICE SAY
On the day Velasquez was charged, her brother described the 20-year-old to FOX10 as a woman who is "very manipulative."
The 20-year-old is scheduled to appear in court again on Friday.
Fox News' Katherine Lam contributed to this report.