Arizona Killer's Last Words in Execution Chamber: 'Boomer Sooner'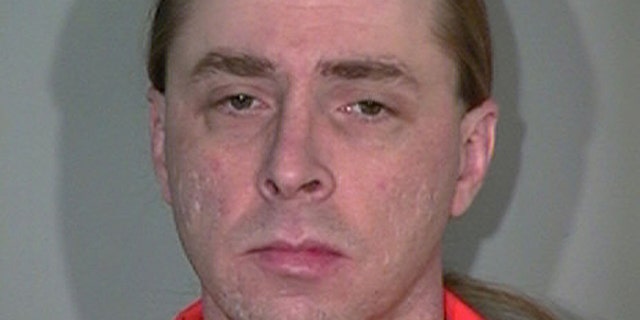 "Boomer sooner."
Those were the last words uttered by convicted killer Jeffrey Landrigan before he was executed by lethal injection Tuesday night in Arizona for his role in a 1989 murder.
The unusual parting words likely stemmed from Landrigan's youth as an Oklahoman.
"Well, I'd like to say thank you to my family for being here and all my friends, and boomer sooner," he said before being at a state prison in Florence at 10:26 p.m -- making him the state's first execution since 2007.
Landrigan, who was sitting on death row since his 1990 murder conviction, was executed after a stay issued by a federal judge was lifted by the U.S. Supreme Court. That stay was based on questions about the effectiveness of the state's supply of an execution drug in short supply.
Arizona obtained a supply of the sedative drug sodium thiopental from Great Britain.
Landrigan, 50, was found guilty of murdering Chester Dyer of Phoenix in a killing that prosecutors said was part of a robbery.
Landrigan's execution came after a full day of delays brought on by a stay issued by a federal judge in Phoenix on Monday. The stay was upheld by an appeals court early Tuesday, but lifted by the Supreme Court just after 7 p.m. Arizona time.
Landrigan had a troubled childhood, being given up for adoption as an infant by his birth mother and not knowing his biological father until he was an adult. By then, the father was on death row in Arkansas. He died there in 2005 of natural causes.
During Landrigan's teen years and young adulthood in Oklahoma, he had frequent scrapes with the law. By 1982, he was serving time for second-degree murder in the stabbing of a buddy when he walked away from an Oklahoma prison work detail a month before Dyer was killed.
Dyer, whose bloody body was found face-down on the bed in his ransacked apartment, was known for flashing a wad of cash on paydays as he sought homosexual sex, according to trial testimony.
Evidence against Landrigan included admissions to an ex-girlfriend and a psychologist and also physical evidence that included fingerprints, a crime-scene footprint that matched Landrigan's sneakers and blood on a shirt that Dyer owned but that Landrigan was wearing after the killing. Also, Dyer had called a friend from his apartment and said he was having sex with "Jeff."
Court battles leading up to the execution centered on Arizona's resorting to use of a source other than the sole U.S. manufacturer for an execution drug in short supply nationally and on Landrigan's push for courts to consider DNA evidence.
Arizona said Tuesday that it got its sodium thiopental from Great Britain, the first time a state has acknowledged obtaining the drug from outside the United States since the shortage began slowing executions in the spring.
The Supreme Court's 5-4 ruling allowing the execution to proceed said a lower court was wrong to block Landrigan's execution because of questions about the drug. The four liberal justices dissented.
A federal judge in Arizona blocked the execution after questioning whether it might be unsafe. The 9th U.S. Circuit Court of Appeals agreed in a ruling early Tuesday, but the nation's high court reversed that decision.
"There is no evidence in the record to suggest that the drug obtained from a foreign source is unsafe," the unsigned Supreme Court order said. "...Speculation cannot substitute for evidence that the use of the drug is 'sure or very likely to cause serious illness and needless suffering."'
The concern about the drug didn't seem to come to fruition. Members of the media who witnessed the execution described it as "calm" and "mellow" by media members who witnessed it.
As the drugs started flowing, Landrigan was laying under a white sheet nearly up to his collar on a bed-like structure and didn't move during the procedure. His lips parted slightly once he was unconscious.
Soft crying could be heard from some witnesses associated with Landrigan.
Some crime-evidence -- blood stains on Dyer's blue jeans -- weren't done under court-ordered 2007 testing and were only tested recently. The defense said the omission was an inadvertent mistake by its testing lab.
The defense said preliminary DNA results disclosed last week indicated that the blood came from Dyer and a person other than Landrigan. They said that bolstered Landrigan's innocence claim and justify holding a new hearing on the DNA evidence.
Prosecutors objected. They argued that the new DNA results tracked those of earlier testing and don't matter anyway because, they said, another person participated in the killing.
The Arizona Supreme Court on Tuesday denied a motion to stay the execution over the DNA matter.
Arizona's last execution was of Robert Comer on May 22, 2007.
The Associated Press contributed to this report